UK Consumer-Loans Comparison Guide
When comparing loan options as a consumer in the UK, it's essential to understand the various types of loans available and ask the right questions to ensure you apply for the loan that best suits your needs. Our financial experts assemble the essential information you must consider before borrowing money.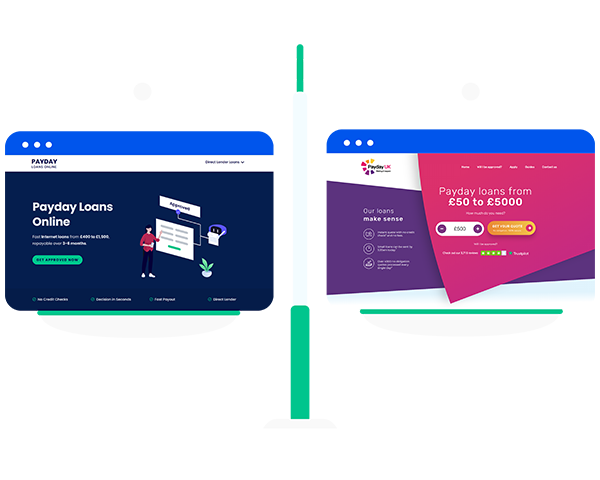 Things to Consider Before You Click Apply
The essential 7 points below are the most important things you should consider before borrowing money. As a regulated direct lender, we help thousands of people every month to find the best loan product for them.
Loan Amount: Determine how much you need to borrow and ensure it aligns with what you're eligible for​. Aim to borrow the minimum amount that is enough to help you achieve what you want.
Repayment Term: Consider the length of time you want to repay the loan and how that affects monthly payments and total interest paid​. Note that the longer the loan period is, the more expensive it is, but the monthly repayment is lower.
Monthly Repayments: Evaluate your budget to see what you can repay monthly​ without risking your ongoing financing. Keep around 20% of disposable income in your budget.
Purpose: Be clear on what you need the loan for, as this will guide the amount and type of loan you apply for​. Short term loans are not long term solutions and should only be considered ad-hoc solutions.
Lender Choice: Look for a reputable, FCA-regulated lender. In the UK also, brokers must be regulated. But, unlike direct lenders, they don't provide you with the money.
Borrowing Costs: Understand the interest rates, APR, and any additional fees or charges with the loan​. Also, what are the penalties for not paying on time?
Eligibility: Ensure you meet the lender's eligibility criteria before applying to avoid unnecessary hard-searches on your credit file​. Hard searches leave a fingerprint on your credit file that may impact your eligibility. Many lenders will use soft-credit checks to avoid leaving credit search fingerprints on your credit file.
After covering the essentials, you want to consider the following:
Decide between secured or unsecured loans.
Determine the urgency of your need for the loan.
Check if you can improve your credit score to better your loan terms.
Compare Loan Rates Effectively Using Online Loan Calculators
Many loan calculators are available online to help consumers determine if a loan product is the right one for their current needs. The best loan calculators can help you calculate the following:
Check Representative APR:
Loan Amounts
Evaluate Total Repayable Amount:
Early Repayment Terms:
Fixed vs. Variable Rates:
What are some of the best online loan calculators?
Barclays Loan Calculator Provides a realistic idea of possible borrowing amounts and repayment terms based on your financial situation and borrowing history.​
Nationwide Loan Calculator Offers an idea of how much you might pay for a loan and the representative APR for various loan terms​.
NatWest Loan Calculator Estimates how much you could borrow, your interest rates, and monthly payments without impacting your credit score​.
MoneyHelper Loan Calculator Helps you determine how long it will take to pay off a loan and the total interest you'll pay, which is great for budgeting and planning​.
To know which loan is more expensive, compare the APRs, the total repayable amount, and any additional fees—not just the interest rate. The loan with the higher APR and total repayment cost will generally be the more expensive option.
How do you ensure that a lender is regulated?
In the UK, any firm offering credit to consumers, including loans, must be authorised by the Financial Conduct Authority (FCA). Here's a simplified overview of the legal and regulatory considerations. If the authorisation number is not displayed on the website, please do not apply using that site. The authorisation number looks like this: (FCA license: 714479). working with an authorised direct lenders entails that:
Lenders must meet the FCA's standards, proving they have a sound business model and are managed by responsible individuals.
Lenders must adhere to the FCA Handbook's rules, terms in sales contracts, the Consumer Credit Act (CCA), and the Consumer Protection from Unfair Trading Regulations.
How Do We Compare to Other Lenders?
Discover how we stack up against other UK Lenders
Can I Get an Unsecured Loan from a Bank?
Comparing bank loans is possible using the same criteria we mentioned above. The main differences between banks-loans and private lenders loans are:
Time to Money – Private lenders are much faster to approve your application. Most would do it 100% online.
Cost of money – Bank unsecured loans are generally cheaper than payday and private lender loans.
Approval ratio – The likelihood of people with bad credit being approved for a loan is much higher with private lenders.
Here are some examples of bank personal loans for your consideration:
Bank AA – Representative APR of 7.3% £5,000 over three years at 7.3% APR
Tesco Bank – Representative APR of 5.9% to 7.3% £10,000 over five years at 5.9% APR
Bank of Ireland UK, Representative APR of 6.1% £15,000 over five years at 6.1% APR
Post Office Money, Representative APR of 7.3%, £25,000 over five years at 6.1% APR
Sainsbury's Bank, Representative APR of 7.3%, £5,000 over three years at 7.3% APR
What Is Better, a Credit Card or a Loan?
Credit cards and loans are different financial products. Our financial experts put together the main differences and use cases to make it easier for our user to compare credit cards and loans
Credit Cards:
Revolving credit that you can use repeatedly up to a set limit.
Interest is charged on outstanding balances if not paid in full each month.
Flexible repayment options with minimum monthly payments.
Often used for short-term financing and everyday purchases.
It may have additional benefits like rewards points, cashback, or travel insurance.
Loans:
A fixed amount of money borrowed for a specific purpose.
Funds are received in a lump sum.
Interest rates may be fixed or variable but are applied to the entire loan amount from the start.
Repayments are usually fixed and made over a set term.
Typically used for more extensive, one-off expenses.
To compare credit cards to loans:
Consider the interest rate (APR) for each.
Look at the total cost of borrowing (including fees).
Assess repayment flexibility and how it fits your financial situation.
Evaluate any additional benefits or protections offered by each option.
Consider the intended use and whether you need funds upfront or over time.
It's crucial to match the financial product to your needs and repayment ability.
Summary
By carefully assessing the loan conditions and comparing the terms offered by different lenders, you can make an informed decision and choose the right loan for your circumstances. We advise using loan calculators to estimate monthly repayments and total interest paid over the life of the loan. Remember that while loans can help you manage your finances or make necessary purchases, they also add to your debt and come with a commitment to repay, so choose wisely.