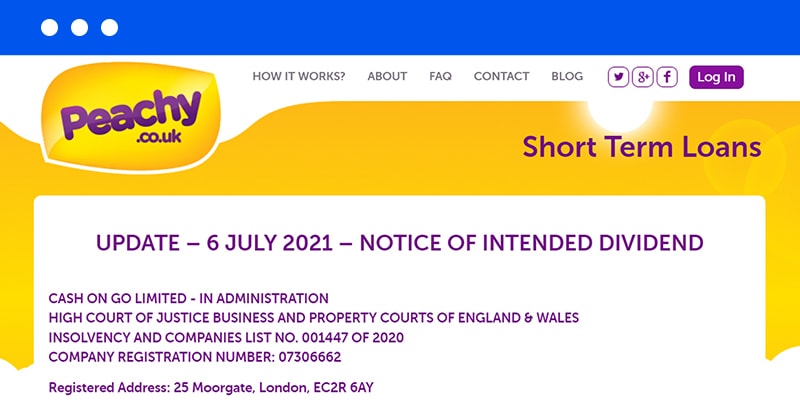 Peachy Loans Alternative
Get Payday Loans Like Peachy Here
Are you looking for Peachy Loans online? As of 5 March 2020, Peachy payday loans ceased any new lending, having entered administration. You may now be searching for a suitable alternative you can trust. PaydayLoansOnline offers short-term loans that are like Peachy, with flexible payment terms and the same speedy payout. We have excellent customer service that you can rely on, with responsible policies to protect you. So if you're looking for an alternative to Peachy payday loans, then apply with us below.
When applying for any payday loan product, consider what alternatives may be available. As a responsible lender, we will not approve applicants we believe cannot afford repayments or are struggling. A PaydayLoansOnline loan should be used as a last resort and offer help rather than add financial stress. Alternatives such as overdrafts and credit cards could be a much cheaper form of borrowing for you. If you require financial assistance, get in touch with independent charities such as Step Change. These organisations can provide impartial advice for debt and offer assistance in tackling it.
Who Was Peachy Loans?
Peachy Loans were a payday loan lender in the UK, offering high-cost short-term finance to customers. Peachy payday loans were a recognisable brand, having advertised on TV and through other platforms. Applications could be made online and through the Peachy app, with a Peachy Loans contact number available too. Having ceased lending, you're likely looking for loans like Peachy from direct lenders.
PaydayLoansOnline is a direct lender, but we can also act as a broker. Being able to operate in both ways provides a considerable benefit to customers with us. If, for any reason, we're unable to help, then we can sell your application to another lender who will. Your details will only be passed on with your permission. However, the benefit is that you won't have to fill in multiple applications for different lenders. We specialise in providing direct loans to those who have a less than perfect credit history. Our acceptance rates are high, but our policies may be different to others, so we cannot guarantee approval.
PaydayLoansOnline Does Things Differently to Peachy Loans
Offering loans between £300 and £1000 for three to six months, PaydayLoansOnline provides a similar offering to Peachy loans. We do things differently, however, with responsibility and ethical lending built into our service from the beginning. We're a newer lender on the market and have been FCA registered from the start. We don't have a history of dodgy practices to unravel in light of more recent regulatory changes. Protecting customers and providing fair, ethical payday loan products is our mission. If you've been looking to access your Peachy loans login for a new loan, then why not give us a chance? You can apply for a loan for a short term through us on this website.
The Financial Conduct Authority is there to protect consumers, and our below policies are designed to safeguard you as well as us. These policies also set us apart as doing things more responsibly than lenders such as Peachy payday loans.
We won't allow customers to take out more than one loan at a time
We don't encourage a cycle of being in debt, so no multiple loans one after the other with no break between
No rolling over loans
Our main product can only be used a maximum of two times a year
Customers can repay their loan early at any time
If a customer wishes to rearrange their payment plan, we're happy to discuss this if they get in touch
These policies help ensure customers who turn to us are treated fairly and don't get into unsustainable debts. Payday loans aren't suitable for everybody, with much cheaper forms of borrowing being available. Our affordability assessment is designed to ensure customers can afford to repay their loans without struggle. If a different form of help is more appropriate, as a safe payday lender, we encourage you to take that option.
Facts About Loans Like Peachy
Payday loans like peachy have been around for a long time, and below, you can find some interesting facts and figures:
Under FCA regulations, default charges on a payday loan cannot exceed £15.
Interest rates on unpaid balances cannot exceed the interest rate of the amount initially borrowed.
Interest and fees must not exceed 0.8% per day of the original borrowing amount. This applies even if the loan is rolled over.
The average loan amount taken out by UK customers is £260. £100 is the single most common loan amount requested by customers.
From 2017 to 2018, three in every four payday loan customers took out multiple loans in a single year.
The above facts hopefully shine some light on payday loans similar to Peachy loans. FCA regulations such as some mentioned above help protect consumers. Protection is in place by both the FCA and lenders such as us, but alternatives may still be better solutions. Late repayment of a loan can result in legal action being taken, such as court orders that allow goods to be seized. We want our customers to borrow money responsibly and only when they can afford to comfortably pay it back. If you've exhausted other avenues of help and can afford a loan like Peachy, you can apply below with us.
FAQs
1. Can I still use my Peachy loans login to borrow money?
Peachy loans have entered administration and ceased any new lending. Peachy loans will contact any customers with outstanding balances and claims to address these accounts. Since no new lending is happening, your Peachy login can no longer be used for new applications. PaydayLoansOnline can provide a safe and ethical alternative to the Peachy application. Our experienced underwriters will ensure you're able to afford repayments. Once an application is fully approved, we aim to pay funds out within four hours.
2. Will a Peachy loans alternative be protected by the FCA?
Yes, the FCA is there to protect all payday loan consumers. At PaydayLoansOnline, we have been registered and regulated by the FCA since we first started trading. We don't have a history of dodgy malpractices that needed to be solved when new regulations came into effect. Along with FCA protection, we have policies designed to keep customers safe. For a loan like Peachy, apply with us through this website.
3. Can I still get fast payday loan payouts like Peachy?
Many payday lenders now offer fast same-day payouts of loans once applications are approved. We are one of these lenders, with our alternative Peachy loans usually being paid out within four hours of approval. We specialise in helping customers with bad credit, and like Peachy, have high acceptance rates. If alternatives have been considered, a payday loan through us can be applied for below.