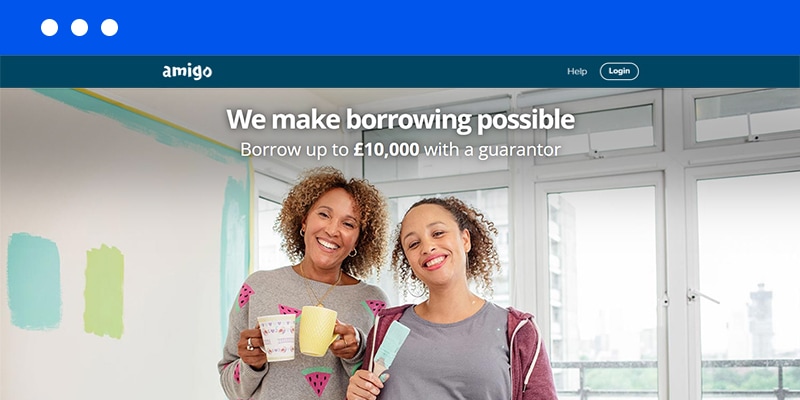 Amigo Loans Alternative
Choose PaydayLoansOnline for a Safe and Easy Alternative to Amigo
With a full spectrum of loan services on the market, finding the best solution to your cash flow problem can take more time than you have to spare. Especially if you are on the hunt for emergency funds for an urgent matter. At PaydayLoansOnline, we advise all our customers to take whatever time they have to compare different loan companies before making an application.
If you've already spent a few hours online researching your options, you may have come across Amigo. And if you've delved a little deeper, you might even have read about the company's current crisis and what this means for the short-term loan industry as a whole.
We aim to resolve all your queries, provide a transparent comparison between ourselves and Amigo, and shed light on the future of PaydayLoansOnline lending.
Who Owns Amigo Loans?
First off, let's take a look at Amigo Loans' owner and the lender's credentials:
Name: Amigo Holdings PLC now trading as Amigo Loans Ltd
Established: 2005
Amigo Loans Founder
Created by James Benamor and headquartered in Bournemouth, the company originated as and remains a mid-cost, guarantor loans lender (more about this in a moment). Benamor handed over the reins to Glen Crawford in 2016.
Glen Crawford's role at Amigo
Crawford led the business through an IPO on the London Stock Exchange and fulfilled his role until 2019. Amigo's LSE trade name is AMGO, with more information about Amigo Loans current stock price available here.
Crawford returned to his post as CEO in July 2020, only to leave abruptly just a couple of months later, amidst a chaotic period of board unrest. His successor, 'turnaround specialist' Gary Jennison, hopes to steer the business back on track. More details, including the Amigo logo, can be found on Amigo Loans' wikipedia page.
Amigo Loan Guarantor
The first main difference between PaydayLoansOnline and Amigo is the involvement of a guarantor. A guarantor is a friend, family member, or in fact any other person, who agrees to take on your debt if you fail to make your repayments. This type of loan offers both advantages and disadvantages.
Pros
You have more chance of a successful loan application with the backing of a guarantor
You may be able to borrow more as the lender is afforded additional security
This may be the only option if you suffer from a poor credit score
If you meet the terms of your repayment schedule on time, every time, your credit rating is likely to improve
Cons
Finding a suitable guarantor can be difficult. Discussing money issues openly is a challenge for many of us. Not only would you have to disclose your current situation, but you would also have to find out whether your guarantor's finances are in good shape
If things go wrong, as unexpected events can happen, and you fail to make repayments, this could cause tension between you and your guarantor
All Amigo loans fall under this category. In contrast, every PaydayLoansOnline loan is available without a guarantor. This can make things easier if you are not ready to open up to loved ones or if you simply don't have anyone else to turn to.
Amigo Loans Bournemouth: What Does the Future Hold?
As mentioned previously, the future looks unclear for the Amigo group, which may persuade those looking to lend money to seek a more secure alternative. Why choose PaydayLoansOnline? We offer a variety of services, including payday loans, small personal loans and business loans that award our customers with the following benefits.
Safe, Secure and Ethical Lending
PaydayLoansOnline is a relative newcomer to the industry, especially when compared to Amigo Holdings. This means our operation was established FCA ready – when the laws changed in 2015, many older companies had to change their entire practice and struggled as a consequence. All our processes strictly adhere to FCA's regulations and place our customers' interests at the centre of our business.
Fast and Easy
Without the need for a guarantor or collateral, PaydayLoansOnline loans can be transferred in no time. The procedure can be completed in three simple steps.
Fill out your application online
Receive an instant decision from our team
If approved, the funds will be credited to your account within the hour
No Hidden Fees
We actively encourage our customers to repay their loans as soon as possible, which allows a sizeable reduction on their debt. No charges will ever be incurred for early repayment.
Please be advised that this form of lending is expensive and should only ever be used in emergency situations. In keeping with our transparent approach, we display the full repayment amount due as clearly as possible, which should be considered carefully before making an application. If you need any help at all, do not hesitate to get in touch.
FAQs
1. Can I get a PaydayLoansOnline loan with bad credit?
If you're looking for a short term loan but have been rejected previously on account of your credit rating, we may be able to help. We specialize in unsecured loans for those with bad credit. If you want to know your chances of approval before applying, simply input your details into our affordability calculator for a zero impact indicator.
2. Is PaydayLoansOnline a safe alternative to Amigo?
We are FCA accredited and abide by current UK regulations at all times. We strive to ensure a fair and pleasant experience for all our customers. If you're unsure whether our service is right for you, feel free to check out our reviews from previous lenders.
3. What happens if I can't make repayments?
If you find yourself in a situation where you are struggling to meet your payments, give us a call as soon as you can. Our friendly and dedicated support team will talk you through your options and arrange a more suitable repayment plan.
4. What happens if my application is rejected?
At PaydayLoansOnline, we work as a direct lender to fund loans quickly and with as little hassle as possible. However, in the unfortunate event that your application is denied, we can, with your permission, act as a broker on your behalf.
5. Can I apply outside office hours?
Of course! You can complete your application online around the clock. If you submit your details in the evening or at the weekend, we will deal with your request first thing in the morning.