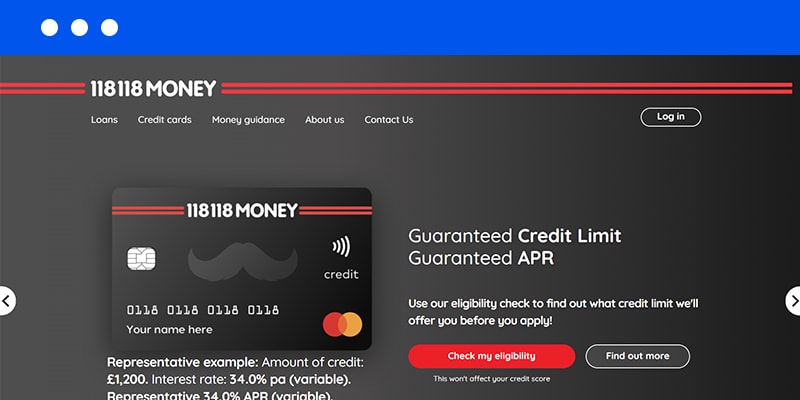 118 118 Loans Alternative
Apply Today for a 118 118 Loans Alternative. If you need a small amount of cash fast, you're probably on the hunt for a payday loan from a reputable lender. Here at PaydayLoansOnline, we provide short-term credit for urgent expenses. With easy application, speedy transfers, top-notch service, and high acceptance rates even for customers with bad credit. Looking for a 118 alternative? You've found it!
We explore the similarities and differences between PaydayLoansOnline and 118 118, giving you all the information you need to make the right decision. First off, let's take a look at who 118 118 are exactly and what they offer.
118 Money: What Are They All About?
Most UK citizens will remember the 118 118 directory enquiries adverts of the early 2000s. Some may still be able to hum the tune. But what does that have to do with loans? Well, more than a decade later, in September 2013, the same company launched 118 118 Money as a spin-off personal loans provider. While the original directory enquiries number remains, it continues to spark debate, often coming under fire for outlandish telephone bills.
118 Loans: What Do They Offer?
118 118 currently provide the following loan options:
Short term personal loans
Amounts between £1,000 and £5,000
Durations between 12 and 36 months
So, in comparison to PaydayLoansOnline, there are a couple of significant differences here already. Firstly, our loans begin at £300 and stretch to a maximum of £1,000. We strongly believe in borrowing just as much as you need, not a single penny more. And secondly, our loans are available from three to six months. Again, our aim is to guide customers towards financial stability and not keep them in debt longer than necessary.
Can You Pay Off 118118 Loans Early?
Reading the small print is essential when entering into any sort of agreement, particularly one involving finances. At PaydayLoansOnline, we are proud to offer our customers early repayment with absolutely no fees attached. The situation at 118 118 is a little murkier. If customers wish to repay a part of, or their entire, debt in advance, they could end up with an early settlement cost. Plus interest: 58 days' worth for loans over 12 months.
Other 118 118 Money Loan Options
Aside from unsecured personal loans, 118 also offer credit cards, as detailed below:
118118 Credit Card for New Customers
The guaranteed rate credit card allows all purchases, transfers and withdrawals to be made with a single interest rate and no extra fees.
118 Credit Card for Existing Members
The simple monthly fee card has a fixed monthly charge with no interest rates or additional costs for usage.
While the 118 118 Money credit cards could be an interesting option for some, the APR is still typical of credit cards designed to build up or boost credit ratings. And if you fail to clear your outstanding balance in full at the end of each month, the total debt can start to accumulate rapidly.
118 Money Loan Top-Up
With top-ups reasonably expected in the industry, you may be asking yourself, with 118 Money, can I top up my loan? Despite our differences, this is where 118 and PaydayLoansOnline agree. Adding additional debt onto an existing loan encourages a continuous pattern of borrowing, which only makes things worse in the long run. Those looking for 118 118 top-up loans will have to venture elsewhere.
PaydayLoansOnline; the Sensible Alternative
Having provided the ins and outs of 118 118, let's explore PaydayLoansOnline as a suitable alternative. Here are just a handful of benefits our customers enjoy when taking out a fast short term loan with us.
Transparent and ethical lending: We have arranged our entire business model around the FCA's regulations, meaning you are safe and protected when borrowing from us.
No hidden fees: We won't charge any costs for early repayment. Before accepting any PaydayLoansOnline loan, all details, including the total amount due, will be clearly displayed.
Easy to apply and manage: Application takes less than three minutes. And just like with the 118 118 loans login, customers can access their accounts online 24/7.
Fast funding: As a direct lender, we can resolve your emergency in no time. We offer same-day funding, with most transfers taking place within the hour.
Dedicated customer support: We can be contacted Monday to Friday via email or over the phone. Meeting our customer's expectations is a number one priority.
If you're still not convinced, why not see what other people are saying? Both PaydayLoansOnline and 118 118 loans have reviews online, which is an excellent place to start when considering any product or service. We are constantly striving to improve and use our customers' opinions to ensure the best possible loan experience for you and thousands of others.
FAQs
1. Can I get a 118 credit card limit increase?
118 118 credit cards have a guaranteed limit of £500, with a maximum total of £1,200. The possibility of a 118 118 credit limit increase depends on individual circumstances. Customers are advised to phone the 118 118 Money number on 08000 118 222 to discuss their options, which deals specifically with credit card queries.
2. Why can't I top up my loan?
Just like at PaydayLoansOnline, a 118 118 loan top-up is no longer a possibility. In keeping with ethical lending standards, we try to dissuade our customers from adding more debt onto an outstanding loan. If you are struggling to deal with your financial situation, there are several great services out there that may be able to help.
3. How easy is applying for a loan at PaydayLoansOnline?
All our processes, from the application to maintaining your loan, have been developed with your convenience in mind. You are welcome to apply around the clock. You can even enter your details into our zero impact affordability calculator first to assess your chances of approval. If things go well, you won't need to resubmit your information. Our team will respond to your loan request instantly. And if successful, your funds will be transferred the same day, usually within an hour. If you encounter any problems at all, feel free to get in touch, and we'll be happy to help!