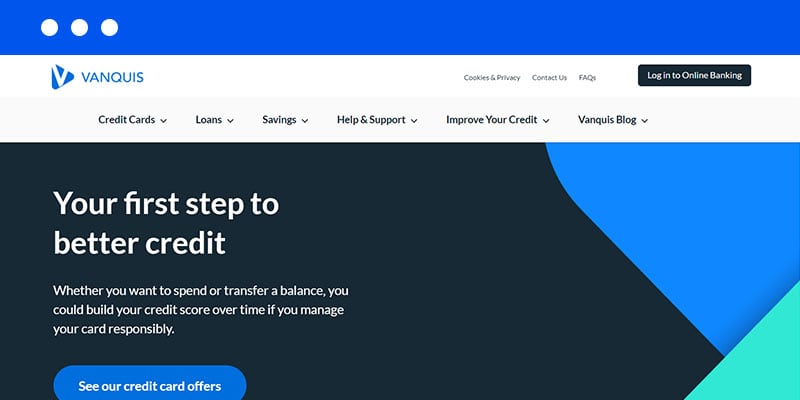 Vanquis Loans Alternative
Choose PaydayLoansOnline for a safe and easy alternative to Vanquis loans
When you need fast cash, you can't afford to spend hours sifting through your options. Yet making the wrong decision could cost you heavily. At PaydayLoansOnline, we are here to help. Not only are our loans simple and straightforward, but our approach to financing is too.
If you're looking into Vanquis, you may be considering a credit card. This form of credit works well for some, but it's not for everyone and may not suit a situation where you need emergency funds instantly. Nevertheless, we will talk you through the pros and cons, compare credit cards to our own short term loan alternatives, and hopefully make your decision easier. So you can choose the best option for you, with both speed and confidence!
Who are Vanquis and How Do Vanquis Loans Work?
Piloted in 2002 and fully launched a year later, Vanquis Bank was established by the experienced Provident Financial Group. The company initially focused on credit cards for customers with poor ratings and still promote their credit builder cards as their primary product. The UK's Financial Conduct Authority (FCA) recently landed Vanquis a hefty fine for failing to disclose charges to customers. In 2016, the brand introduced personal loans into the mix, which work as follows:
Fixed term loans with monthly repayments
Up to £5,000 available
Loan periods between 12 and 36 months
Can Only Customers with a Vanquis Credit Card Apply?
Yes, Vanquis currently offer direct loans to existing credit cardholders only. However, non-members can check their eligibility for a Vanquis loan through a third-party service, for example, via a money comparison site. In contrast, PaydayLoansOnline's safe short term loans are available to everyone and can be applied for online in a matter of minutes, directly through our secure website.
Vanquis Bank Loans vs Credit Cards
If you're still unsure whether a credit card is the right option for you, let's explore the advantages and disadvantages.
Pros
Builds credit: The Vanquis credit builder card is specifically designed to help customers improve their credit score. Providing payments are made in full, on time, every time.
Interest-free periods: Vanquis offers up to 56 days interest-free, on purchases only; terms and conditions apply.
Convenience: You have the flexibility to make purchases whenever you like, even if your salary isn't due for another week or two.
Cons
Damages credit: If you fail to make payments, your credit score will suffer.
Extra fees: On top of interest every month, you may also be charged costs for withdrawals, foreign transactions, late payments, exceeding your limit, and other usage.
A cycle of debt: One of the most significant risks of acquiring a credit card is spiralling debt. If you miss even one payment, costs can quickly escalate, which could leave you in severe financial difficulty.
PaydayLoansOnline vs Vanquis Loans Online
PaydayLoansOnline's online payday loans are fast, simple and hassle-free. Vanquis loans are only available for existing customers. This means owing money on your Vanquis credit card and on your personal loan, placing you in a somewhat confusing and potentially dangerous debt combination. If you're looking for a more straightforward approach, check out the benefits of choosing PaydayLoansOnline:
Our short, fixed-term loans allow you to resolve your capital emergency in as little time as possible.
Unlike credit cards, you know exactly how much you will repay from the start.
If you can clear your debt early, that's perfect! We charge no fees for early repayment.
Uncomplicated application process with an instant response and speedy funding.
Poor credit ratings welcome; we take everything into account to assess whether you can afford your loan in the here and now.
How to Access a Vanquis Loans Account
Vanquis do not provide an online application form on their website. Instead, customers have to apply via text, email or through the app. Alternatively, members can ring the Vanquis loans phone number to check their eligibility and receive an application link if successful. The details are as follows.
Vanquis Loans Contact
The company refer to their app for most customer necessities, including activating credit cards, making payments and reporting stolen cards. However, there are a number of Vanquis loans contact numbers available if the app cannot handle the query:
Vanquis loans number: 0333 003 5803
Credit card customer service: 0330 099 3000
Repayment option plan: 0330 099 3010
Financial difficulty: 0330 099 3002
If you need to get in touch with our dedicated PaydayLoansOnline team, we just have one number (020 3757 1933), making things much simpler for everyone involved.
FAQs
1. What does the Vanquis credit card application involve?
Applicants first need to go through an eligibility check or a soft search to assess their chances of approval. According to the website, this takes just 60 seconds and has no impact on credit rating.
2. How many Vanquis cards can I have?
Vanquis customers can only have one credit card at a time, either the Origin, Classic or Chrome. Reviews are made every five months to check whether a credit limit increase is possible.
3. How fast can I get a Vanquis loan?
If approved, a Vanquis loan will be credited to your bank account within three working days. At PaydayLoansOnline, if your application is successful, you can expect your funds the same day, with most transfers taking place within the hour. We know that emergencies call for fast solutions and work hard to ensure we meet all our customers' needs.
4. Can I repay my loan early with Vanquis?
Yes, you can. But if you wish to clear your debt early, you will have to contact the Vanquis team and request a settlement quote. As a responsible and ethical credit provider, PaydayLoansOnline actively encourages customers to repay their loans as early as possible by charging no settlement fees or added interest. If you want to know more about our services, don't hesitate to get in touch and we'll be happy to go through your options.