Borrow Money Online
Recent technological advances have made online money borrowing in the UK easily accessible. New money-borrowing Apps promise no-credit checks and one-click funding. However, anyone considering borrowing money must be informed about potential risks, costs and consequences. PaydayLoansOnline underwriters review thousands of borrowing requests daily. They put together the essential facts to help you borrow money responsibly.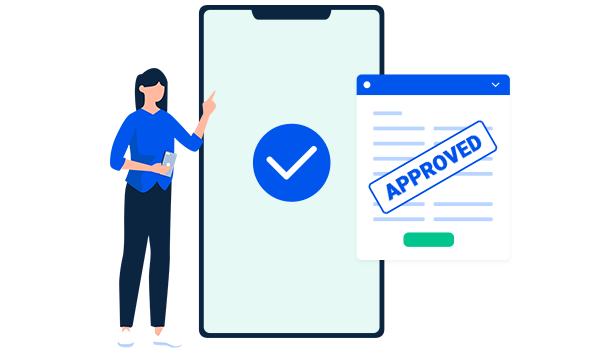 Representative example: Borrow £700 for 6 months. 1st monthly repayment of £168.45, 4 monthly repayments of £224.60, last monthly repayment of £112.20. Total repayment £1,179.05. Interest rate p.a. (fixed) 185.39%. Representative APR 611.74% Our APR includes all applicable fees. Daily interest is capped at 0.798%
Warning: Late repayment can cause you serious money problems. For help, please go to www.moneyhelper.org.uk
Key Takeaways
Borrowing money online can be done safely and responsibly if people are well-informed.
Interest rates varied based on credit rating (banks) and affordability (direct lenders).
No credit check is a no-go. It is simply illegal; a soft credit check is the way to go.
Consider repayment terms and flexibility options before making a decision.
Understand your rights as a borrower to ensure your peace of mind and fair treatment.
Introduction
Beyond our experience as an FCA-authorised lender, we reviewed many reliable resources, government guidelines, and regulators' policies to give our readers the most accurate borrowing guide. We also compare traditional banks against private lenders and discuss mobile applications designed for specific borrowing cases like Unexpected medical bills, emergency expenses, urgent home repairs or consolidating existing debts.
Responsible Borrowing Practices
While the Financial Conduct Authority (FCA) monitor lenders' activities regularly to ensure they comply with the most rigid regulation, it is still up to the borrower to borrow a responsible amount. The UK government or the regulators can not do this part for you. A responsible amount is an amount you can afford to repay while maintaining your monthly financial obligations, including repaying ongoing debts.
If you are struggling with debt obligations, it's essential to obtain assistance before signing up for borrowings of cash/credit, etc. Charities like StepChange and MoneyAdviceService provide free advice & help.
Golden rule: You must ensure that the borrowed amount is sufficient to solve your current problem and that you can pay the monthly repayment comfortably. Taking too much will incur costs you can avoid, and taking a smaller amount from what you need will not solve your problem.
Assessing Your Financial Situation
Before you decide to borrow online, it is necessary to consider your overall financial standing. This entails examining all income sources, expenditures and ongoing credits. When doing the expenditure calculations, please consider the cost of living in the UK and allocate over 5% for unexpected bills. Increases in the costs of consumer goods cause rising inflation from 2021 to 2023. Food prices have also been rising sharply over the past year and were 14.8% higher in July 2023 compared with a year before, as measured by the Consumer Prices Index (CPI)
Typically, a lender would ask you to provide the following details: salary per month, expenditure costs, and past residence locations. Origin of revenue and bank account information, among others, which can help secure favourable terms should the request prove viable according to their policies.
Your responsibility: The lender will assume your cost of living and try to maintain a disposable income (what is left for you after paying the monthly repayment) of at least 25%. But you know you are the only one who knows what you need. Be fair with yourself and borrow money responsibly.
Borrowing Money Online Safely
With so many blowing applications and websites operating in the UK, choosing with whom to work is hard. Your online safety and data privacy are a top priority for us. Please ensure that the website or lender you want to work with is authorised by the FCA, clearly presents their data protection policies and has contact details in the UK. Also, make sure that the website SSL certificate is valid. We always recommend people considering borrowing money online to call the candidate lender and get the service impression. You will be surprised how many call centres in India you may reach. They are not necessarily bad, but we wouldn't recommend working with lenders that process your data outside the UK.
Keep your data safe: Borrowing money online requires sharing a lot of information about you and your financial situation. Make sure you share it with established lenders that can protect your information.
Borrowing with Bad Credit
If you have a bad credit score, you can still borrow money. But, it may be more expensive as the risk to the lender is higher. It would be best if you avoided anyone who offers you no-credit-check borrowing. Lenders must assess your credit and affordability before giving you a funding offer.
People with bad credit tend to accept any terms proposal that gets approved. This doesn't seem right. With a bad or good credit score, the money you borrow should help you solve a specific financial gap. The same affordability rules apply.
Ask yourself: What elements in your credit file negatively impact your score, and how fast you can fix them. Inform the lenders in advance if you know of any mistakes in your credit file or if historical things have already been resolved.
Money Borrowing Apps
Borrowing Apps appear every day. Some have creative business models like person-to-person, crowd-funding and subscription plans. Don't let all these fancy names confuse you. Borrowing money is a serious decision, and you must always remember why you plan to borrow money and the amount you need. Behind any creative business model, there is a cost, and there are risks you must understand. Before sharing your details on any borrowing App, ensure you understand the business model, the costs and the game's rules. It's also essential you understand the different types of interest providers are quoting. We explain interest rates and repayment terms below.
Interest Rates and Repayment Terms
When it comes to borrowing money, the interest rate and repayment terms are the building blocks that define the overall cost of borrowing. In this section, we will examine fixed versus variable interest rates and flexible vs. early payment options lenders commonly offer online.
Fixed vs. Variable Interest Rates
Unsecured borrowing has two common interest options: fixed and variable. Fixed rates maintain the same rate throughout the lifespan of the borrowed money, providing stability for budgeting purposes but potentially costing more in total interest payments than a variable-rate version. On the other hand, a variable option offers potential lower initial rates though these could increase over time as market conditions evolve. Unpredictable fluctuations make it difficult to plan financially with accuracy.
Ultimately your selection should be based on personal financial circumstances and evaluating both types' advantages and disadvantages before deciding which suits you.
Repayment Terms and Flexibility
Repayment terms and flexibility vary from lender to lender, with options ranging in duration from short-term (up to 6 months) or long-term borrowing over a period of greater than six months. Having the ability for adjustments within repayment conditions is helpful if your financial circumstances change during the loan term. It's essential when considering any form of debt that you are aware of its related repayment terms as well as comparing flexibility offered by different lenders before making a decision on which option suits your needs best.
Early Repayment Options
Some lenders offer the option of early repayment. This can lead to savings on interest charges and potentially boost your credit score without penalties. It is essential to research what fees or higher rates may be associated with repaying earlier than planned.
Bank or a Private Direct Lender
When obtaining online financing, you typically encounter two types of lenders: banks and private direct loan providers. Banks are financial establishments that provide various banking services, such as loans. Conversely, private direct creditors specialise in providing money directly to borrowers. Generally speaking, banks possess more demanding lending criteria and may ask for extra documentation or security, while non-bank entities can offer quicker approval processes with greater leeway regarding terms.
Regarding interest rates supplied for borrowing funds online plus the quantity available from each creditor type – A bank provides lower charges along with higher sums compared to those granted by a personal lender who might be able to adapt their service when needed but also have smaller offers in comparison.
How Does the FCA Protect Consumers When Borrowing Money?
The FCA has a substantial responsibility to safeguard consumers who are borrowing money in the UK. To do this, they publish and enforce a set of guidelines and policies lenders are obliged to follow. Chapters like consumer duties, fair business conduct, vulnerable customer protection and more are designed to provide a reliable and fair borrowing experience.
Example #1: Tim from London
Tim from London borrowed £800 to repair the dishwasher and some water damage in his home. Before applying online, Tim carefully reviewed the cost of borrowing to ensure he can afford the monthly repayments.

| Item | Details |
| --- | --- |
| Borrowing | £800 for 6 Months |
| Interest | £530.55 |
| APR | 718.72% |
| Total Repayable | £1330.55 |
| Six Equal Payments Of | £221.75 |
| TransUnion Credit Score | (601–660) |
| Item | Details |
| --- | --- |
| Borrowing | £1100 for 6 Months |
| Interest | £724.90 |
| APR | 675.42% |
| Repayable | £1824.90 |
| Six Equal Payments Of | £304.15 |
| Equifax Score | (439-530) |
Example #2: Mary from Manchester
Mary from Manchester needed to quickly borrow £1100 to pay for an unexpected medical bill. Her bank was too slow to respond, and the paperwork would take her too long. She applied online and got the funds a few hours later.

Summary
We tried to cover all the critical aspects related to borrowing money online in the UK. If you feel ready to begin your borrowing application, click the button below and let's get started. We hope we can be the right lender for your needs.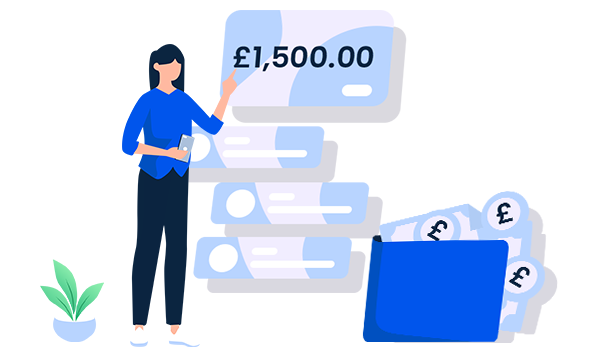 Borrow Money Online from £300 to £1500
How much do you need?
No Paperwork (Less Than 2 Min)
FCA Authorized Direct Lender