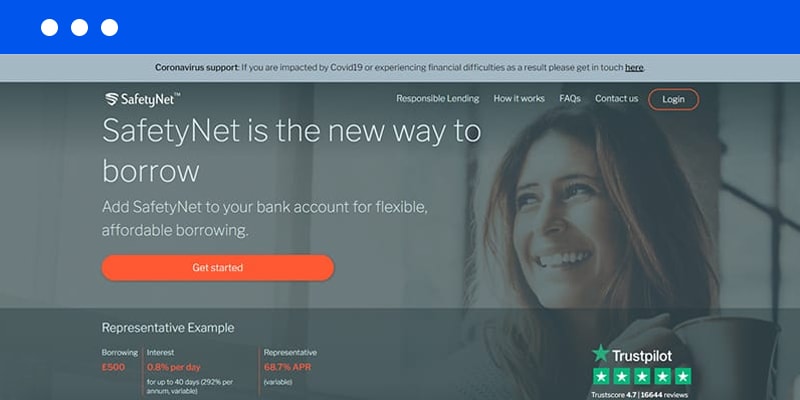 Safety Net Credit Alternative
On the hunt for a hassle-free loan? Try PaydayLoansOnline for a no-fuss alternative to Safety Net. If you need fast funds and are currently scouring the internet for a solution, you've come to the right place. With a stream of loan services available, finding the right one can often add to your already soaring stress levels. At PaydayLoansOnline, we aim to keep things simple. By offering short term credit to resolve an urgent financial fix.
But we strive for a transparent and ethical approach to lending. In keeping with this commitment, we explore other loan options for our customers. Starting with credit from Safety Net. We delve into the company's finer details and investigate the pros and cons of this form of lending.
How Do Loans Like Safety Net Credit UK Work?
Standard loan services generally take the form of a one-off payment that is repaid with interest over a certain period of time. Established in 2015, Safety Net opted to redesign this traditional format by operating as an ongoing credit facility. What does that involve exactly? Let's take a look:
Customers authorise access to their bank accounts, allowing the company to keep tabs on their transactions
The Smart Top-up function adds funds when the customer's bank balance drops below a certain level
Borrowers can select automatic repayments. This authorises SafetyNet Credit to extract funds once the bank balance increases, for example, on receipt of salary
Are PaydayLoansOnline Loans the Same as Safety Net Credit?
With paydayloansonline.co.uk, borrowing is kept simple and straightforward. We won't track your balance or take any money from your account except on the agreed repayment date each month. And we believe in encouraging our customers to become debt free at their earliest convenience. As such, no top-ups are allowed.
Is Safety Net a Payday Loan?
SafetyNet loans share many similarities to payday loans, as they are both intended to resolve short term money problems. The most significant difference is, of course, the revolving credit aspect, which contrasts the fixed-term nature of payday loans.
Are There Any Other Companies Like Safety Net Credit?
Revolving credit facilities usually cater to business owners, which is reflected in the online market. However, loans like Safety Net Credit can still be found for personal use. We explore some of the options:
Loans Like Safety Net in the UK
Tappily: Headed by the same owners as SafetyNet, sister product Tappily offers higher limits and lower rates, yet acquiring a loan requires a better credit rating.
Polar Credit: A fast and flexible direct lender that focuses on poor credit and customer loyalty.
Drafty: Another ongoing credit line that can be used continuously, with loans available up to £3,000.
Other loans like Safety Net include instalment loans, typically peer-to-peer or through membership schemes, which are offered by such companies as Creditspring, SteadyPay and Lending Stream.
Now we know a bit about how Safety Net loans work, let's go through the pros and cons of opting for this type of loan service.
Advantages
Convenience: Once set up, the user-friendly app allows you to access credit whenever you need it and keep track of your account with ease.
Flexibility: No need to apply for a new loan, and you can make payments as and when you like.
No extra fees: If repayments are made on time, no administration, set up or any other costs are charged.
Disadvantages
Ongoing debt: A revolving credit line makes it easy to fall into a continual cycle of debt.
Lack of privacy: Granting access to your bank transactions may feel a little too intimate.
Borrowing more than necessary: If the top-up feature is activated, you may end up taking out a loan you don't really need.
What are the Safety Net Alternatives?
Obtaining secure net loans may be difficult, especially if you have a poor credit history. But there are still other options available. If you require a safety net for home improvements or unexpected maintenance costs, organising your income and expenses with the help of a budget planner can be a great start in getting back on track. If you still can't come up with the funds, consider asking a friend or family member to help you out or contact your service providers for the possibility of delaying payment.
If all else fails, PaydayLoansOnline can provide a suitable short-term loan alternative to Safety Net loans. As an unsecured, direct lender specialising in bad credit, we can be relied upon when your situation seems hopeless. Our online payday loans range from £300 to £1,000 and can be paid back between three and six months. The entire process occurs online, meaning no trips to the bank, only fast, round the clock service. Once approved, your funds will be credited to your account within the hour.
If you're looking for a Safety Net Credit alternative without the ongoing cycle of debt, our fixed term loans may be your best choice. We always advise our customers to think carefully before applying for any form of credit. If you need any help at all, do not hesitate to give our friendly support team a call.
FAQs
1. How do interest rates differ between fixed-term loans and revolving lines of credit?
Interest rates vary across companies, although costs for any short term lending will run at the higher end of the scale. Using a comparison site can be hugely beneficial, but remember that with a fixed-term loan, you will know the total expenditure upfront before signing up. Total costs for credit lines may be challenging to determine from the outset.
2. How do I know I can trust online lenders?
Before entering into any financial agreement, make sure you're aware of the company's credentials. Reputable lenders such as us will be authorised and regulated by the FCA. Also, check out review sites, such as Trustpilot to ensure your chosen provider is treating its customers fairly.
3. Is there any way to improve my credit rating?
Making payments on time is the obvious answer, but there may be other steps you can take to help improve your credit score. PaydayLoansOnline offers a credit repair service, which includes a full report and tips on how to boost your rating and open up more loan possibilities.