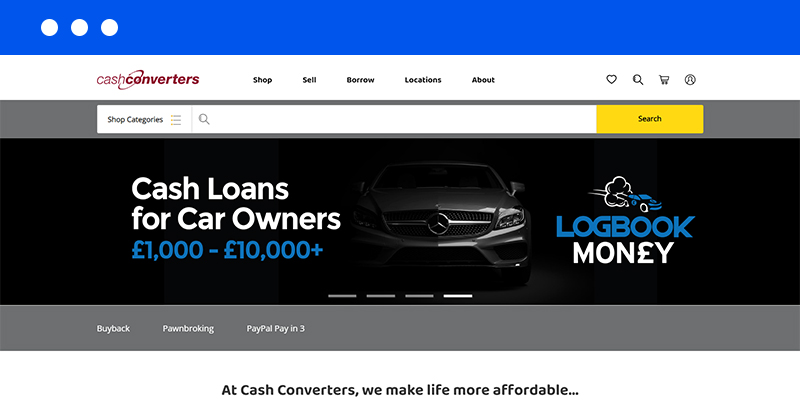 Cash Converters Alternative
Looking for a Cash Converters Loan Alternative? You've Found It!
At PaydayLoansOnline, we provide a safe, responsible and reliable alternative to Cash Converter loans. But don't take our word for it! If you're seeking an instant loan and are feeling a little overwhelmed by the multitude of options available, keep reading. We delve into the origins of Cash Converters, compare our services and aim to resolve any questions you may have about applying for a loan online.
Who are Cash Converters?
Most British citizens will recognise the company as a second-hand store where used goods can be bought and sold. With around 180 Cash Converter locations across the country, the Cash Converters' logo is familiar to most UK consumers. Aside from in-store services, the brand also offers various borrowing options, which include:
Cash Converters payday loans: Instant payday loans are available outside of the UK in nations such as Australia and South Africa
Pawnbroking loans: Secured, fixed-term loans against items of value
Buyback Cash Converters scheme: Sell your items and buy them back within 28 days
Logbook loans: Short term loans secured against your car
Cash Converters Australia; a Brief History
Founded in Perth, Australia in 1984 by Brian Cumins, the company expanded internationally during the 1990s and now operates in 15 countries worldwide. Often misspelt as Cash Convertors, the name became synonymous with second-hand retail in the UK, after the first store opened in Essex in 1991. Many more quickly followed suit, with consumers currently able to visit Cashconverters from Halifax to Dundee. The original Cash Converters website (www.cashconverters.co.uk ) was launched in 2001, which provided easy access to online lending.
As with many loan service providers, especially those established before FCA's reform in 2015, Cash Converters have come under fire in the past decade. One such settlement included a multi-million dollar refund to customers in Australia who were granted loans they couldn't afford.
Cash Converters Online Alternative
PaydayLoansOnline provides an alternative to Cash Converters in more ways than one. For starters, if you're simply looking for instant cash in the form of a payday loan, Cash Converters are currently unable to meet your needs as a UK resident. In contrast, we focus specifically on payday loans for urgent cash flow problems. Aside from this major difference, let's explore some of the other factors at play when choosing a suitable lender:
Direct lender (PaydayLoansOnline) vs broker (Cash Converters): Direct lenders like us deal directly with the customer. This means no third party is involved and we fund your loan from our own accounts. Cash Converters logbook loans are provided by Logbook Money Ltd. As a direct lender, we offer hassle free direct lender loans.
Unsecured (PaydayLoansOnline) vs secured (Cash Converters): All our loans are unsecured; that is, no guarantor or collateral is required to release the funds into your possession. With Cash Converters' pawnbroking scheme, your loan is secured against an asset, usually an item of value, such as jewellery or precious metals.
Online (PaydayLoansOnline) vs in-store (Cash Converters): As we are a relatively new company, we launched our products with a digital mindset. All processes take place online, which allows us to work much quicker and more efficiently. Applying for a loan with Cash Converters UK involves travelling to a physical store, which may take more time than you have to spare.
PaydayLoansOnline's Short Term Loan Solution
If you are struggling to gather the funds you need for an emergency expense, we can help. At PaydayLoansOnline, we offer ethical lending services to those who have nowhere else to turn. Take a look at some of the reasons why customers are choosing us for short term loans online:
We are FCA approved and regulated. This ensures all our customers are in safe hands.
We strive for transparency and an ethical approach to lending. All repayment totals are clearly displayed and we encourage all our customers to clear their debt as soon as possible by charging no hidden fees.
Our service is fast, easy and convenient. Filling out your online application takes a matter of minutes. Once completed, you will receive an instant decision from our underwriting team. If your loan request is approved, you can expect your money within the hour.
We welcome customers with bad credit. We believe that your ability to repay your loan should be determined by more than just your credit score. If you're worried about rejection, which could impact your score further, try our affordability calculator first for a zero impact indicator.
FAQs
1. Are payday loans expensive?
Yes, payday loans can be expensive and should only be used in emergencies. Our customers often resort to this type of loan in situations where a little bit of cash is needed urgently. For example, to pay for a car repair, medical expense, or household maintenance, etc. They should never be used to resolve long-term cashflow problems.
2. Do I need to put up collateral like with Cash Converters?
No, unlike at Cash Converters, all our loans are unsecured. This makes the process smoother and faster. As long as you are 18 years old or above, are a UK citizen and have a UK bank account, you are welcome to apply for a PaydayLoansOnline loan.
3. How much can I borrow and how does it work?
Our short term loans start at £300 and go up to a maximum of £1,000. Loan durations vary between three and six months, with payments taken once a month, usually on or around payday. Early repayment will reduce the overall cost by avoiding unnecessary interest. Simply complete the application and we will get back to you with an instant decision. Once approved, we will transfer your funds directly into your bank account. You can log into PaydayLoansOnline at any time to review your plan or make a payment.
4. What if I need more than £1,000?
If a payday loan doesn't quite cover your expense, we can offer small personal loans of up to £2,500. With durations between six and nine months and lower interest rates, PaydayLoansOnline's personal loans may provide a more suitable and affordable option for your current situation.