Bad Credit Loans
Too many people in the UK still believe that an excellent credit score is needed to get a fair loan. Well, we are happy to tell you it is no longer the case. We are an FCA-authorised direct lender that specialises in helping people with bad credit to get a reliable loan ranging from £300 to £1,500.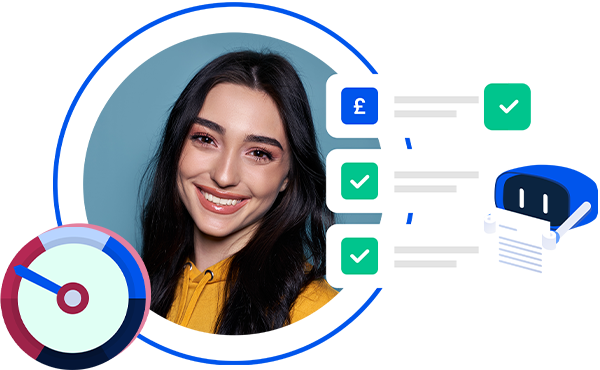 Representative example: Borrow £700 for 6 months. 1st monthly repayment of £168.45, 4 monthly repayments of £224.60, last monthly repayment of £112.20. Total repayment £1,179.05. Interest rate p.a. (fixed) 185.39%. Representative APR 611.74% Our APR includes all applicable fees. Daily interest is capped at 0.798%
Warning: Late repayment can cause you serious money problems. For help, please go to www.moneyhelper.org.uk
Bad Credit Shouldn't be a Barrier to Getting a Loan
Having bad credit limits your options, which can be very stressful when you're trying to borrow money. At PaydayLoansOnline we offer specific loans for people with bad credit. Don't fall for the brokers who promise you funding, but instead decline your application. Instead get the money you need today from PaydayLoansOnline.
Avoid These Pitfalls
Avoid Many Hard Credit Checkers
Avoid loan brokers that perform tons of hard checks to filter leads.
Avoid "No Credit Check" Promises
FCA authorized lenders must perform a responsible lending check before they fund.
What Is A Bad Credit Personal Loan?
A bad credit personal loan is a type of loan specifically designed for people with bad credit. There are several reasons why someone might have bad credit, including missed or late payments, defaulting on a loan, or having bankruptcy or foreclosure in their history. Bad credit personal loans usually have higher interest rates than traditional loans, as lenders view them as a higher risk. However, there are still several options available for people with bad credit who need a loan. PaydayLoansOnline is a bad credit direct lender specialist company that looks at each person's circumstances, not just their current credit score.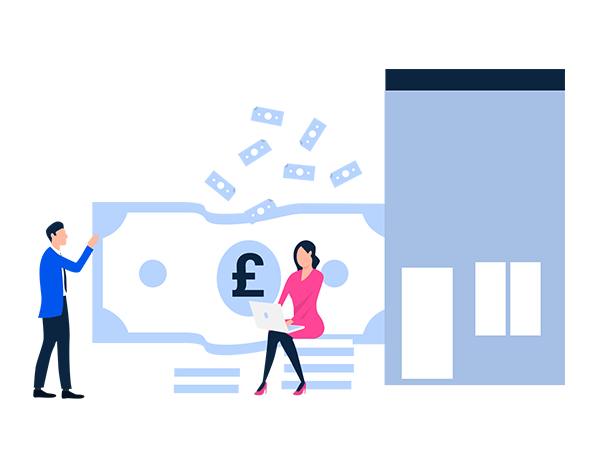 How to Obtain Your Bad Credit Loan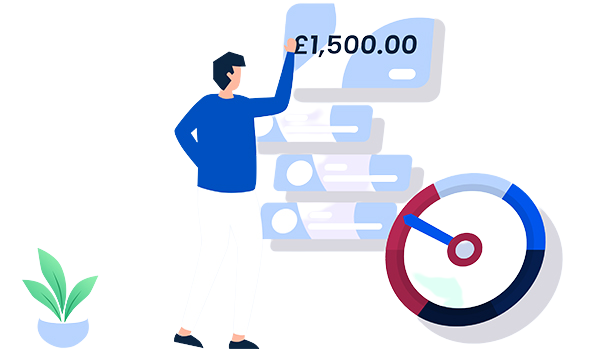 Fill in the Loan Form
Complete the loan application. We will not ask for your credit information during the process.

Get Your Instant Decision
Receive an instant lending decision as soon as application has been submitted.

Fast Cash Payouts
Your money should appear in your bank account within an hour if you are approved.
What You Need To know
People with bad credit scores can safely apply and get approved for affordable credit online. It is essential to understand what items in your credit history negatively impact your score. Some direct payday lenders in the UK have developed financial products that weigh affordability over your credit score. But you should always check that the price you pay for borrowing money makes sense in your current situation.
These loans should only be used to pay for an unexpected bill and not to alleviate a long term monetary problem to avoid your debt spiraling out of control and further damaging your credit history. Alternatively, repaying your loans on time can help you to improve your credit score.
Key Points
We weigh affordability over your credit score
Get a loan with lower interest rates than most bad credit loans on the market
Get a flexible monthly payment plan to help you get your finances back on track
Will I be Accepted for a Bad Credit loan?
We understand that your credit history doesn't reveal the whole story and believe that everyone deserves an equal chance to credit when they need it. If we see that you can afford the loan repayments and that borrowing money won't damage your finances, we will happily consider your loan application. We treat all our customers fairly by imposing the same loan rates across the board, regardless of credit rating.
Always use our loan affordability calculator before applying for a loan to check that you have enough disposable income to repay your loan because applying for credit and getting declined can leave unwanted footprints on your credit file.
Key Requirements
To apply for a loan with us, you must meet the following eligibility criteria:
Be above 18 years old
Be a UK resident
Hold valid UK bank account details
Have a steady source of income (this may include benefits)
Bad Credit
Loan Example
Do you know that most people in the UK do not have an excellent credit history? The Credit Reporting Agencies (CRA's) collect financial data to assess people's ability to pay. While banks and credit card companies heavily depend on the CRA's to approve applications, PaydayLoansOnline weigh affordability over scoring. This means that PaydayLoansOnline can approve you for a loan regardless of your credit score. However, you must still prove that you can pay off the credit and still have money left over for your daily living expenses. By repaying the loan on time, not only will you be able to cope with short term money problems, but you will also improve your credit score over time. Do don't allow your credit score to hold you back.
| Details | Example |
| --- | --- |
| Loan Amount | £700 |
| Loan Period | 6 Mths |
| Interest Rate P.A. (fixed) | 185.39% |
| 1st Monthly Repayment | £168.45 |
| 4 Monthly Repayments | £224.60 |
| Last Monthly Repayment | £112.20 |
| Total Repayment | £1,179.05 |
| Representative APR | 611.74% |
Bad Credit Loan Representative Example
Why You Should Only Borrow from an FCA-Authorised Lender
If you're reading this page, you are probably considering taking out a bad credit loan soon. We really appreciate your trust. Even if you end up taking your loan with another lender, It's crucial to ensure you're borrowing from a lender authorised by the Financial Conduct Authority (FCA). Here's why:
The FCA's regulations are designed to protect you, the consumer.
By choosing an FCA-authorised lender, you ensure that you're borrowing from a trustworthy source that will treat you fairly and transparently. Always check the FCA's register before taking out a loan to ensure you're making a safe and informed decision. Here is our direct lender license link FCA license: 714479
Trustworthy Lenders
The FCA's "Consumer Credit sourcebook" (CONC) sets out strict guidelines that lenders must follow. Choosing an FCA-authorised lender ensures that you're dealing with a reputable company that adheres to these guidelines. Be careful of lenders offering no refusal payday loans for borrowers with bad credit.
Responsible Lending:
Creditworthiness Checks:
FCA-authorised lenders are required to assess your creditworthiness before offering a loan. This ensures that you're only given a loan you can realistically repay.
Caps on High-Cost Loans:
The FCA has set cost caps for high-cost short-term credit (like payday loans). This means there's a limit to how much you can be charged, protecting you from exorbitant fees.
Clear Information & Pre-Contractual Requirements:
Before you sign any agreement, lenders must provide clear information about the loan, ensuring you fully understand the terms.
Fair Treatment & Protection from Misleading Promotions:
The FCA ensures that all financial promotions and lender communications are clear, honest, and not misleading. This means you won't be tricked by hidden fees or terms.
Protection from Unfair Practices
The FCA ensures that lenders don't engage in unfair business practices. This includes sending unsolicited credit offers or taking advantage of customers with limited mental capacity.
Bad Credit Loan FAQ's
Do you perform a credit check when I apply?
Yes. We perform a credit check on every incoming application, even if it's from a returning customer. This is to check what current credit commitments you have so we can make sure we're lending responsibly.
Will a bad credit loan affect my credit score?
Borrowing credit can have repercussions on your credit score indirectly, depending on how you repay it. If the loan is paid back on time, it can improve your credit. Likewise, if a loan is paid back late or not at all, it can damage your credit score. It's important to mention as well that most mortgage lenders may be hesitant to approve you for a mortgage if you've borrowed a bad credit loan in the past year.
How much can I borrow if I have poor credit?
If you're looking for an unsecured loan online and you have bad credit, you should be able to borrow up to £1,500 without any trouble.

Nowadays, people with poor credit can access almost the same amounts as people with good credit, thanks to other factors besides creditworthiness that lenders take into account (like affordability, for example). Although some lenders charge different interest rates for different credit scores.
Are only secured loans available to people with bad credit?
The type of loan you can qualify for is not always determined by your credit score. In general, secured loans such as "homeowner loans" are used for larger amounts and at lower interest rates. If you need a quick solution for a short-term financial shortcut, unsecured loans may be available for you. Several lenders in the UK can offer you these loans regardless of your credit score.
With a low credit score, do I need a guarantor?
An affordable bad credit loan does not require a guarantor. Guarantor loans are a different financial instrument invented by banks to reduce lending risk. There is one crucial thing you need to remember: Guarantor is not a replacement for payment! You still need to ensure you can repay the loan per your contract.
With a poor credit history, can I get a personal loan?
In general, small personal loans are repaid in six or more installments. If you pay back your loan over a longer period of time, you pay less per month. The lower monthly payments make personal loans more affordable for borrowers and easier to approve for lenders. Smaller monthly repayments, especially for people with bad credit, can increase acceptance approval rates.
Bad Credit Loans from £300 to £1,500
How much do you need?
No Paperwork (Less Than 2 Min)
FCA Authorized Direct Lender