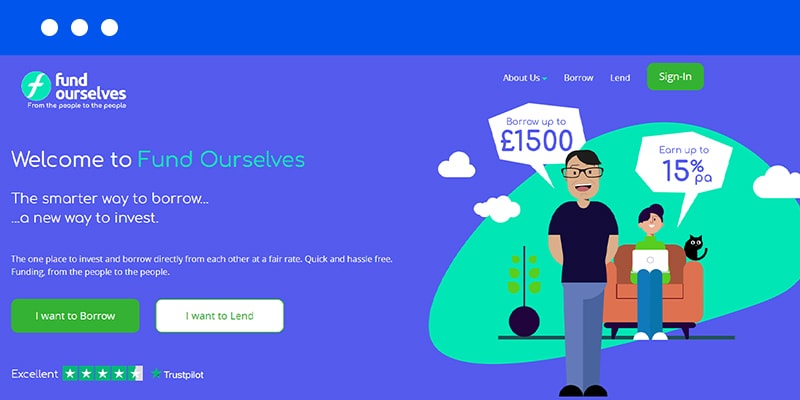 P2P Loans Alternative
Try PaydayLoansOnline for a Simple Alternative to P2P Loans
At PaydayLoansOnline, we offer flexible short term loans to customers who need fast cash for emergencies. Through our simple, straightforward approach, we have helped thousands of borrowers struggling with urgent money matters up and down the country.
But as part of our open attitude and commitment to ethical lending, we take a look at alternative options for credit services. This includes P2P lending, or peer-to-peer loans, which replaces banks and financial institutes with individuals. We focus on two P2P lenders:
The London based Money Platform, which was the first P to P lending branch authorised in the UK
The smaller Fintech brand, Fund Ourselves, also headquartered in London
We uncover the ins and outs of each platform and aim to answer any questions you may have.
Is the Money Platform a Direct Lender?
First off, it's essential to understand the differences between a direct lender such as us and a peer-to-peer alternative. If you apply for one of our payday loans, we handle everything internally, with no outside party involved in the process. In contrast, the Money Platform UK and Fund Ourselves connect borrowers to suitable lenders through their respective websites.
How Does the Money Platform Work?
One of the significant benefits of this type of credit is speed. Here's a brief summary of how it works:
Borrowers simply fill out their details online, which takes less than two minutes.
After registration, customers will receive a quote on how much they are able to borrow.
If they wish to continue, they can then choose the loan that suits them best.
Once selected, a credit check is performed, and if approved, the borrower receives their funds the same day.
The Money Platform Contact Number
The customer service team can be reached at 020 3962 1696. However, loan applications can only be approved online and not over the phone.
The Money Platform Opening Hours
Those looking to contact telephone support are best advised to ring the above number from Monday to Friday between 9 am and 5 pm. Inexplicably, the Money Platform website provides no indication of actual opening hours. Online applications can be completed 24/7.
The Money Platform Loan Reviews
When considering taking out a loan, it's essential to check the lender's credentials beforehand. A little bit of research can go a long way in ensuring a safe and suitable transaction. Customer reviews are one of the best resources for detecting unscrupulous practices and determining whether a company will stick to its promises and meet expectations.
The Money Platform Trustpilot 0 reviews currently show a significant split between Bad and Excellent, with an average total rating. However, the Money Platform complaints' team do respond to negative comments, which helps improve their credibility. The Money Platform reviews range from five-star praise of their easy process and top quality service to scathing criticisms, generally directed at delayed transfers.
How Does Fund Ourselves Work?
Just like Money Platform, Fund Ourselves Ltd is a P2P company that offer simplified loan services for UK residents. Let's take a quick spin through their specifics:
Fund Ourselves contact number: 0800 368 9553
Fund Ourselves opening hours: Once again, the website fails to display contact hours
Loan options: P2P short term loans of £100 to £1500 (new customers can borrow a maximum of £800)
Borrowing from We Fund Ourselves works in the same way as the Money Platform loans. Credit requests are completed online, with decisions returned swiftly and successful applications funded generally within the hour. Once up and running, customers can access their accounts through the Fund Ourselves login. As with the Money Platform login, borrowers can then view their loan details and make repayments.
Fund Ourselves loans and any P2P credit service may be an option for those in need of a monetary boost. To sum up, consider the following advantages and disadvantages before making your decision:
Pros
Cuts out the middleman to supposedly offer better rates for borrowers
Flexible, easy to use and fast access to cash
Initial application has zero impact on your credit score
Cons
Poor credit ratings may result in high-interest rates or flat out rejection
Additional fees may be charged
You may not receive the same level of protection from the FOS or FSCS
FAQs
1. Is Fund Ourselves legit?
There are numerous ways to determine a company's legitimacy. Simple factors, such as a straightforward website, are the first thing to check. The lack of Money Platform and Fund Ourselves' opening times is a bit of a nuisance, but it doesn't necessarily set the alarm bells ringing. The next thing to ascertain is their status with the FCA: Fund Ourselves are indeed authorised and regulated by the UK's financial authority. Lastly, Fund Ourselves reviews indicate a positive experience by the majority of customers, with an above-average Trustpilot score.
2. Is PaydayLoansOnline a good P2P loan alternative?
At PaydayLoansOnline, we provide short term financial solutions, particularly for customers with a poor credit rating. If you have been rejected elsewhere, we may be able to help. We perform a credit check on all our customers in compliance with FCA regulations, but we also take other factors into account, specifically whether you can afford to repay your loan in the here and now.

We have organised our company with a digital mindset that guarantees convenience for today's online world. Easy application. Instant responses. Fast funding. Add to that no hidden fees, a dedicated support team and loan flexibility, and we believe our service makes a great alternative to P2P lending.
3. How do payday loans work?
Payday loans are intended for emergency use only and are used to cover urgent expenses, such as unexpected bills or maintenance. They are short term by nature, with payments taken monthly, usually on or around payday. Our PaydayLoansOnline payday loans are available for three to six months on amounts between £300 and £1,000. We actively encourage our customers to repay their debts at their earliest convenience, with no fees charged, to reduce costs and facilitate a safe and easy road to financial stability.