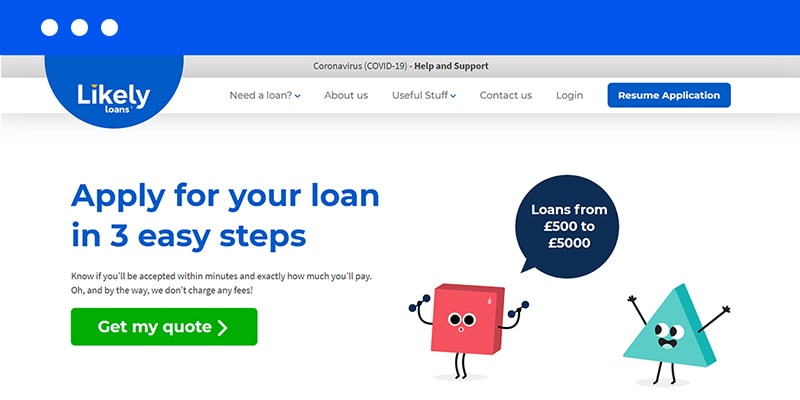 Likely Loans Alternative
In Need of a Likely Loans Alternative? You've Come to the Right Place!
If you're searching for an instant cash loan, PaydayLoansOnline is here to help. We offer a Likely Loans alternative that can resolve your financial emergency quickly and with as little stress as possible. But first, let's take a look at Likely Loans in more detail and explore the differences in our short term loan offers.
Who are Likely Loans?
Established in 2011, Oakbrook Finance launched Likely Loans in 2014. The company aims to make unsecured personal loans accessible to all, especially UK citizens with a less than favourable credit history. Based in Nottingham, Likely Loans uses a digital-first approach, allowing customers to apply and manage their loans online, ensuring efficiency and convenience.
Likely Loans Contact Number
A reliable and trusted business should always respond to their customers. Likely Loans can be contacted in a variety of ways, including the following.
Likely Loans Phone Number
The team can be reached at:
0208 080 6457: Between 8 am and 6 pm, Monday to Friday or 9 am to 1 pm on a Saturday. (Unfortunately, this service is currently only available to existing customers)
07984 372 073: For inquiries via text messaging
0208 080 6450: Payment line. Borrowers can make payments 24/7
Loan Application Queries
If you are not a Likely Loans customer, you have to resolve your query yourself through the FAQ section. And if this fails, you may submit your request online, but will have to wait for a response. In contrast, PaydayLoansOnline is happy to take calls from anyone struggling with any part of the loan process.
Likely Loans Online Account
Every new customer is automatically assigned an online account on registration. From here, they can access their details, view their loan plan and make repayments.
Likely Loans Login UK
The Likely Loans sign in procedure is as simple as entering your email address and password. All digital accounts are powered by Oakbrook. Once online, customers can review and edit information and are granted access to the live chat function.
A Likely Loans Account: What Do They Offer?
So now we know a bit about the company and how they can be contacted, let's find out what type of loans they have in store.
Unsecured loans: As with PaydayLoansOnline, Likely Loans do not require security in the form of collateral or a guarantor.
Mid to high amounts: Loans are available between £500 and £5,000. In contrast to PaydayLoansOnline, Likely Loans start off a little higher than our £300 credit option. We always strive to put our customers' best interests at the heart of everything we do. And this includes never lending a single penny more than is actually needed.
Extended loan duration: Likely Loans are available from 12 to 36 months. PaydayLoansOnline's pay day loans, in comparison, are intended for pressing matters, with shorter loan durations of between three and six months reflecting this urgency. We encourage our customers to clear their debt as soon as possible to help them regain financial control.
Likely Loans Top Up
As the name suggests, a top up loan adds funds onto an existing loan balance. The two debts are then consolidated and become a single loan with single payments. Customers are not automatically accepted for this service and will have to complete an application to check eligibility.
PaydayLoansOnline; a Simple Likely Loans Alternative
We want to make things as easy as possible for all our customers. Borrowing from us is fast, convenient and entirely digital. Just like the Likely Loans login process, once a PaydayLoansOnline customer, you can sign in from anywhere and enjoy all the benefits of our service. What else do we have to offer?
Short term loans: We focus on emergency funding. So, if your heating is on the blink or your car breaks down, we can get you the funds you need instantly before payday arrives.
Dedicated support: Our friendly customer service team is on hand to answer your questions whenever you have a problem.
Trusted and ethical lending: PaydayLoansOnline operates under the FCA's strict guidelines, guaranteeing a safe and regulated experience. We charge no hidden fees and actively encourage our customers to repay their debt at their earliest convenience. Furthermore, we adopt a no roll-over and no multiple loan policy to reduce the likelihood of spiralling debts.
We hope that this Likely Loans review has resolved your queries. If not, give us a call today and find out more about the benefits of choosing PaydayLoansOnline as your trusted loan provider.
FAQs
1. What is a payday loan?
More popular than ever before, payday loans are a form of credit generally used as emergency funding until payday; for example, to cover an unexpected bill. As a short term solution, they are expensive by nature and should never be considered a fix for more serious monetary troubles. Our payday loans are specifically intended for those in need of fast cash, who may have been rejected elsewhere on account of their credit rating.
2. Can I get a no credit check loan?
We're afraid not. But in fact, that's not a bad thing! If you see any lender claiming to offer no credit check loans, they are likely scammers. According to the FCA's regulations, every loan application has to undergo a credit check. However, if you're worried about your score, you've come to the right place. Alongside a credit check, PaydayLoansOnline takes other factors into consideration, primarily whether you can afford to pay back your loan in the here and now.
3. Are short term loans bad for credit rating?
Taking out any type of loan impacts your credit rating. And even simply applying for one can alter your score. That's why we provide a zero impact affordability calculator to assess your chances of acceptance. If you fail to make your payments on time once the loan is up and running, this will have a detrimental effect on your credit rating. This is why it is essential to consider every angle carefully before signing up. If, however, you meet the terms of your loan agreement without any missed payments, your credit score may actually improve.