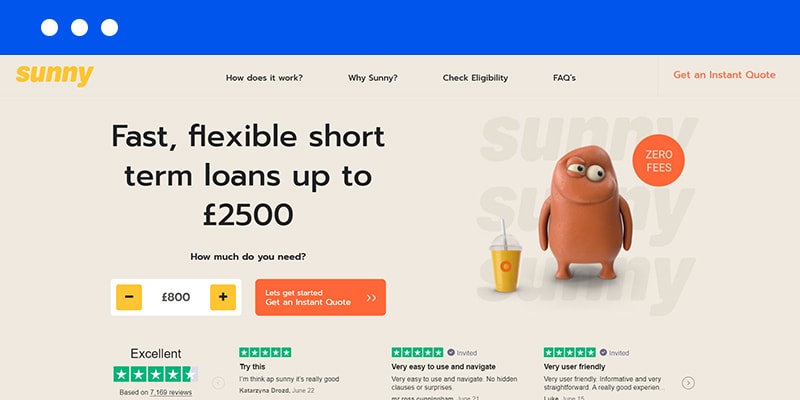 Sunny Loans Alternative
Choose PaydayLoansOnline for a reliable Sunny loans alternative
Are you a previous customer of Sunny and are looking for a new provider? Or are you actually new to the world of loans and are worried about the reliability of online lenders? At PaydayLoansOnline, we cater to both parties. Experienced borrowers and first-timers. We aim to ease all your worries by providing all the information you need to make the right choice for your cash flow emergency.
Sunny Payday Loans: What Went Wrong?
Sunny, a subsidiary of US-led Elevate Credit International Ltd., followed in the footsteps of other high profile lenders by collapsing into administration in June 2020. Like Wonga, WageDay Advance, QuickQuid and a stream of other industry casualties, Sunny succumbed to Covid difficulties and strict regulations enforced by UK authorities. The company have ceased all operations and no longer offer any form of loan service.
Do PaydayLoansOnline Offer Loans Like Sunny?
Despite a challenging year for us all, PaydayLoansOnline continues to support UK residents experiencing financial difficulty. We provide short term credit for cash flow emergencies, with the following benefits granted to all our customers:
Fair and ethical lending: We are authorised and regulated by the Financial Conduct Authority (FCA). We will never lend more than you can afford. We provide easy to understand information regarding your debt, with no confusing small print. And we actively encourage early repayment, charging no fees whatsoever for clearing your loan at your earliest convenience.
Flexible loans: Short term (three to six months) loans ranging from £300 to £1,000. Manageable repayment schedule. Competitive interest rates. We adopt a no rollover, no multiple loan policy to help avert a spiral of debt.
Bad credit welcome: While a credit check is essential to prevent approving a loan you can't afford, we will take other factors into consideration when assessing your application.
What Happens Now to Sunny Day Loan Customers?
Almost half a million Sunny customers were mis-sold loans and deemed entitled to compensation. Yet, the company's lack of funds meant borrowers received next to nothing in payouts. If you were affected personally, it might be difficult to put your faith in any payday loan alternative again. At PaydayLoansOnline, we will strive to regain your trust and will do all we can to make your next lending experience easy, safe and stress-free.
Sunny Payday Problems and How to Avoid Them
You may be wondering if a payday loan is the right option for you. As part of our transparent approach to lending, we advise customers to explore all other avenues before committing to any form of borrowing. As they are short term, payday loans are expensive and should never be used for long term money problems. Try to protect yourself from escalating debt by following these simple guidelines:
Take a serious look at your income and expenses. Write everything down and then make a plan of where to cut costs
Speak to your utility company or anyone you owe money to and ask for more time
Ask your friends or any family members to help you out
Sell unwanted items or trade your car in for a less expensive model with cheaper running costs
Seek professional help if your debts are starting to interfere with your daily life
Ready for a Sunny Loans Alternative? Apply Now!
Our application procedure is quick and straightforward. Simply fill in your details, and we will get back to you instantly. As a direct payday loan lender, we guarantee speedy responses, and if approved, you can expect your funds within the hour. Just like the Sunny loans calculator, PaydayLoansOnline provides a no-impact affordability evaluation free of charge. This handy tool allows you to assess your chances of acceptance without harming your credit score.
Still not convinced? If you want to find out more about PaydayLoansOnline, who's the best person to ask? Our customers, of course! We refuse to shy away from reviews. In fact, we welcome feedback to help make our products and customer service even better. If you compare Sunny loan reviews with ours, at the likes of independent sites such as Trustpilot, you will find we are doing everything we can to both protect and support our borrowers.
Do PaydayLoansOnline Offer Any Other Loans Similar to Sunny?
Aside from our fast cash payday loans, we have two other products available.
Small personal loans: £1,000 to £2,500 for six to nine months. Fair credit scores and above.
Business loans: £1,000 to £200,000 for up to 12 months. For directors and business owners.
Whatever your situation, if you're looking for a reputable direct lender who will put your needs first, apply with PaydayLoansOnline today!
FAQs
1. Is there a Sunny loans contact number I can ring?
The company have ceased all operations and have no existing website, with no Sunny loans number in sight. For those still on the hunt for a Sunny loans' contact option, our advice is to send an email to the customer service team at help@sunny.co.uk to check whether they are still taking queries.
2. How can I get in touch with someone at PaydayLoansOnline?
We are always happy to hear from our customers. If you have any questions or concerns, you can contact us via live chat, email, in writing or by picking up the phone and giving us a call on 020 3757 1933 between 9 am and 5.30 pm, Monday to Friday.
3. What do I need to apply?
Like Sunny's credit criteria and the majority of UK lenders, we follow standard application rules, which include; applicants must be aged 18 years or above, have a UK bank account and UK residency, and receive a regular source of income.
4. Are payday loans a good idea?
That depends on your situation. Yes, they are expensive. But they do serve their purpose. Our customers typically use payday loans to cover an unexpected bill or emergency that simply can't wait until their salary arrives. If you need a small sum of cash this instant, a PaydayLoansOnline loan could be your lifesaver.