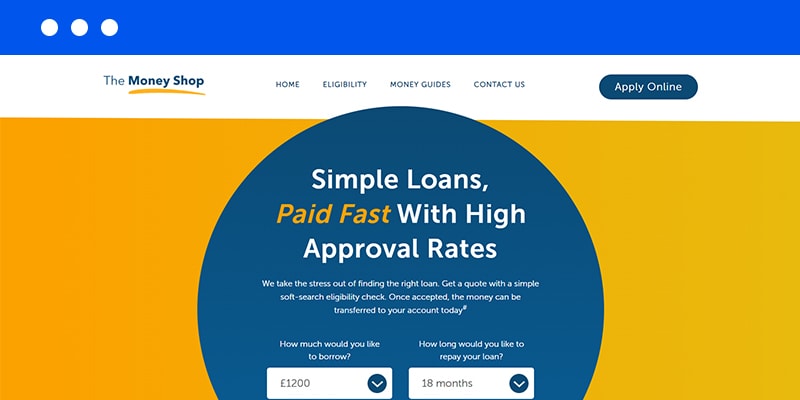 Money Shop Loans Alternative
Apply now for a safe and secure Money Shop loan alternative
If you're strapped for cash and are looking for a reputable lender to help you out, PaydayLoansOnline makes the perfect choice. However, when time is running out, and your stress levels are rising, searching the internet for a suitable loan may feel like more hassle than you can handle. But still, signing up to any old company could make matters worse.
We want to make things easy for our customers. With our flexible payday loans, we provide a lifeline for emergencies. When your boiler gives up in the middle of winter. When your car fails it's MOT. When your vet bill is more than you can afford. Unexpected misfortunes can happen to any of us. And knowing where to turn can rescue you from breaking point.
PaydayLoansOnline promises an ethical and efficient loan alternative to Money Shop. But if you're still not convinced, we compare both services and products for you, so you can find the best solution for your cash flow problem.
Who are MoneyShop?
Answering this question is more complicated than you may imagine. Today's Money Shop operates in the UK as the registered trading name of New Horizons Finance Limited, which works on behalf of Flux Funding. But this wasn't always the case. A decade ago, the Money Shop was a familiar name across the country, acting as a high street pawnbroker and loan service provider. So, what happened?
2015: The Financial Conduct Authority's crackdown dealt the first blow to the company. A substantial fine and an organisational overhaul to meet new regulations prompted widespread store closures.
March 2019: Even more high street Money Shops fall, as rivals, including Ramsdens, H&T Group and Cash Converters, swoop in to expand their businesses.
June 2019: The company ceases trading after failing to recover from a tirade of customer complaints.
Are Money Shop Loans Still Available?
The brand rose from the ashes with a new backer, Flux Funding, who is licenced and regulated by the FCA as a credit broker, meaning they are not direct lenders like us. Instead, they work on behalf of Money Shop customers to find suitable loans from third parties.
The Money Shop Loans: How Do They Differ from PaydayLoansOnline?
Firstly, as mentioned above, a loan from PaydayLoansOnline is approved, processed and transferred directly, with no one else involved. This allows us to handle requests and fund credit swiftly while keeping everything internal. On top of that, if you have any problems, you can get in touch with us. With Money Shop, you would have to go through the actual lender. But that's not all. Let's explore some of the other differences:
Loan amount: The Money Shop: £50 to £5,000. PaydayLoansOnline: £300 to £1,000 (payday loans)
Loan duration: The Money Shop: Three to 36 months. PaydayLoansOnline: Three to six months
Customer reviews: The Money Shop Trustpilot rating: 1.6/5. PaydayLoansOnline: 4/5
For a Money Shop Loan, You Can Apply Online
This is a similarity we share with Money Shop. Our entire business operates online, giving you access to your account or the convenience to make an application 24 hours a day, seven days a week. In contrast to Money Shop online, who as we have seen, have been in the game a while, PaydayLoansOnline is a relatively new company. As such, we were able to structure our organisation around the FCA's regulations and focus on delivering products for customers of the digital world.
Is PaydayLoansOnline a Safe Alternative?
Our transparent approach to lending ensures our borrowers know exactly how much they will owe, how to make repayments and what to do if things go wrong. As part of our commitment, we advise anyone seeking quick short term loans to consider every other avenue before signing up. This type of credit is expensive and should only be relied upon in emergencies, never to patch up long term debt problems.
But how do you know you can trust us? Well, aside from FCA authorisation and regulation, you could also take a look at review sites to see what people are saying about us. We take pride in our customer experience and are constantly striving to make things better for those in need.
The Future of Money Shop Loans Online
Whether the company can recover from their troubled past remains to be seen. If you're unsure about borrowing from the Money Shop UK, why not try PaydayLoansOnline instead? We have already helped thousands of UK residents up and down the country. Apply today, and your much-needed funds could be with you in under an hour.
FAQs
1. The Money Shop say they can fund credit in 15 minutes. Is PaydayLoansOnline as fast?
As an online direct lender, we guarantee easy application and fast funding. You can fill out the application form in less than three minutes, and once submitted, you will receive an instant response from the team. If approved, we will transfer your funds the same day. Generally, within the hour, and yes, sometimes as fast as 15 minutes!
2. What happens if my PaydayLoansOnline application is rejected?
We advise any potential customer to take advantage of our affordability calculator before submitting an application. This offers a zero impact assessment of your chances of loan approval. We have high acceptance rates and focus specifically on helping those with poor credit. However, if your application is rejected, with your permission, we can act as a broker on your behalf. We will then use our contacts to try to connect you with a third party loan provider.
3. What do I need to be able to apply?
UK residents aged 18 years or above are eligible to apply at PaydayLoansOnline. The only criteria needed is a UK bank account and a source of income, which can include salary or benefits. During the application process, you will need to fill in your personal details, including your name and address, plus your employment information and bank account details. If you need any help at all, don't hesitate to get in touch!