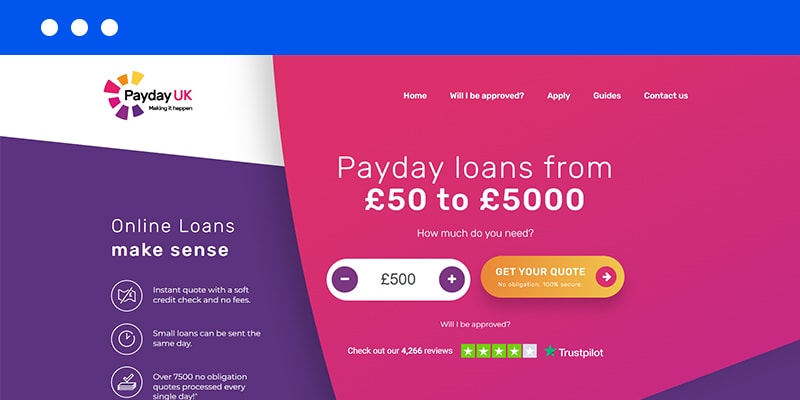 Payday UK Loans Alternative
PaydayLoansOnline offers a fast, secure and hassle-free alternative to Payday UK Loans
Are you looking for a Payday UK alternative for an emergency loan? With PaydayLoansOnline, you're in safe hands. As a reliable direct lender of payday loans, we can relieve your financial woes with as little stress as possible. By focusing on short-term loans for urgent money worries, we have already helped thousands of customers across the UK.
But how do we differ from Payday UK? Are they still operating? Do they provide direct lending services like PaydayLoansOnline? We aim to answer all your questions to ensure you select the best loan provider for your needs.
Who are Pay Day UK?
To answer this, let's first start by telling you a bit about us. As a relatively new business, we built our organisation around the Financial Conduct Authority's (FCA) transformative regulations established in 2015. This allowed us to kick start our company with a safe, fair and honest lending approach by delivering fast payday loans that protect borrowers.
In contrast, those providing loan services well before 2015 were forced to rearrange their entire business model. And, to add insult to injury, many were dealt heavy fines for malpractice, such as the approval of loans customers couldn't afford to repay. Payday UK was one of the many companies hit by the sweeping reform.
Back then, Payday UK was owned by Instant Cash Loans Ltd, alongside The Money Shop and Payday Express, more on the latter shortly. Fast forward to 2021, and Payday are now rebranded and operating under Flux Funding.
How Do Payday UK Loans Work?
What's on offer as part of the new Payday UK loan service? Find out below:
Flexible loan amounts: Starting from £50, with a maximum of £5,000
Extended loan periods: Ranging from three to 36 months
Online application: No Payday UK credit check and instant quote
Fast funding: Small loans transferred the same day
Are Payday Loan Express Still in Business?
Unlike their sister company, Payday Express failed to ignite their product in the UK. As a result, the company ceased operating in 2018, amidst a scheme of arrangement involving almost two million customers.
Can You Still Make a Payday UK Claim?
Customers of Payday UK, The Money Shop and Pay Day Express were given the opportunity to claim costs for ICL's misconduct. According to the company's website, all claims have now been processed and paid, with a second dividend scheduled for December 2021.
PaydayLoansOnline vs Payday UK: What's the Difference?
Now you know a little bit about Payday's past and the way they work. But how do they compare to ourselves? And which company is right for you? Well, the first significant difference besides our histories relates to the way we offer loans: Payday UK are brokers, while PaydayLoansOnline are direct lenders. Let's take a look at how our customers benefit from partnering with a direct lender:
We process your request directly. As the term suggests, direct lenders work entirely internal. We process your application and fund your money straight from our accounts, with no third parties involved.
Speedier turnarounds. As we don't have to wait around for other lenders to review your request, we can get things moving instantly.
Easier communication. With a broker, communication can get confusing pretty quickly. With us, you only ever deal with one company, and we know exactly what's happening with your account at all times.
Both options have their pros and cons, and deciding between the two depends on your personal situation and circumstances. Would you prefer a short term loan from a direct lender like us? Apply today, and we will deal with your request directly, responsibly and as fast as possible.
Managing a Payday Loan Account
If you're new to online loans, you may be wondering how things work in practice. Especially if you're used to heading to the bank for funding. The good news is, most online lenders make things easy, even for those without IT skills. The Payday UK login, which can be found at the www Payday loans UK website, is simple to use.
Just like at PaydayLoansOnline, where new customers can apply within minutes, receive a decision, get funded and manage their loan online with no hassle whatsoever. You can even make repayments early, with no additional charges, which will cost you less in the long run. And if you run into trouble or have any questions at all, you can always give us a call or contact one of our friendly team members through the live chat option.
FAQs
1. Where can I find Payday UK contact details?
The customer service team can be reached on 0800 302 9409. However, as a broker, Payday UK does not respond to queries relating to existing loans. Customers have to contact their lender if issues arise. Alternatively, the team can be reached through the online enquiry form or via email.
2. Can I get instant cash loans from Payday UK?
Yes, the company provides fast, short term loan solutions. However, the actual credit is not transferred nor dealt with by Payday UK. Instead, they work as a broker, so the money itself comes from a third party. At PaydayLoansOnline, our instant cash loans are deposited in your bank account directly from us.
3. Can you get a Payday UK loan without a credit check?
No! Despite this claim on the website, the small print reveals a different story. It's true that Payday UK does not perform a credit check themselves. But in keeping with FCA regulations, potential lenders perform the check instead, first with a soft search, and if accepted, through a hard or more thorough investigation
4. Is PaydayLoansOnline a suitable Payday UK loan alternative?
We like to think so! As a reputable direct lender, we have no skeletons hiding in our closet and can deliver a fast, stress-free alternative to brokering services. We offer flexible payments, especially with our Easy Start feature, loans for bad credit, speedy transfers and exceptional customer service. Apply today and see if we can exceed your expectations.