£1000 Loan
Our top loan product in the UK is a £1000 loan for six months. Many customers, some with bad credit scores, find the 1000-pound loan more affordable than a 3-month payday loan. Our team of financial experts has compiled all the necessary information you need to know before borrowing £1000 online with us.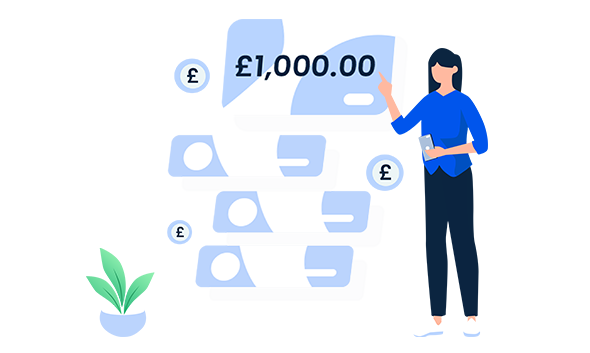 Representative example: Borrow £700 for 6 months. 1st monthly repayment of £168.45, 4 monthly repayments of £224.60, last monthly repayment of £112.20. Total repayment £1,179.05. Interest rate p.a. (fixed) 185.39%. Representative APR 611.74% Our APR includes all applicable fees. Daily interest is capped at 0.798%
Warning: Late repayment can cause you serious money problems. For help, please go to www.moneyhelper.org.uk
Introduction to 1000 Pound Loans
Unsecured 1000-pound loans are gaining popularity in the UK because smaller loans are often insufficient to resolve a situation. It is essential to understand that while the interest rate of a 1K loan may be like payday loans, in absolute terms, a 1000-pound loan is more expensive than a smaller one. Many borrowers prefer a 1000 loan over a payday loan for a more affordable monthly repayment. When applying online for a £1000 loan, you must ensure that early repayment with no penalties is possible.
Eligibility and Credit Requirements
Before borrowing £1000 online, you need to understand the impact of credit scores and how they affect loan approval. Your credit file helps lenders build an educative estimation of the likelihood of getting their money back. The higher the risk for the lender, the harder it would be to get approved. To be eligible for a £1000 loan, you must present a salary slip for the last six months and maintain a 25%-30% disposable income rate between the monthly loan repayment and your ongoing cost of living.
Maintaining these criteria will allow the lender to approve your £1000 loan application, even if you have a bad credit score or other issues on the credit file.
Understanding Terms and Conditions
The key is always in the details. You need to understand the £1000 loan terms and conditions to avoid loans that are not right for your needs. Elements like your interest rates, repayment period, associated fees, and loan approval process are critical for choosing the right 1000 loan for your needs. To make it easy for everybody to understand, we put together some real-world examples with our explanations below:
| ₤1000 Loan Explained | Loan #1 | Loan #2 |
| --- | --- | --- |
| Amount | ₤1000 | ₤1000 |
| Period | 6 months | 9 months |
| Monthly Repayment | £309.75 | £213.85 |
| Total to Repay | £1858.35 | £1924.75 |
| Total Interest to Pay | £858.35 | £924.75 |
| Calculated APR | 663.64% | 388.78% |
The key takeaways from these examples of 1000 loan taking for different periods are:
The APR is cheaper with a longer repayment period, but it would still cost you more in absolute terms.
The longer the loan period, the lower and more affordable the monthly repayment.
Calculating your monthly disposable income based on the loan repayment would be best. The disposable income should be over 20% to get approved.
₤1000 Loan Application Process
The application process is mostly online and requires three to five minutes. The decision is instant, so you would know within minutes if you are approved for a  ₤1000 loan. The form includes questions about your current work and cost of living. Please make sure to provide accurate data. We see thousands of loan applications decline because of inaccurate information users provide. Borrowing ₤1000 is an important decision, and if you decide that this is the right amount for you, please take the time and provide accurate information. Only apply for a loan if you need the money now. 
₤1000 Loan for Bad Credit
We wanted to provide specific advice and options for individuals with bad credit. Every day, we get thousands of requests from people with bad credit. People with bad credit tend to ask for lower amounts to get approved. But it's wrong because if the money you get does not solve your current problem, it may get you into a debt spiral. When considering 1000 loan bad credit, you should always ensure the disposable income is over 25%. See the examples above to calculate if you can afford a 1000-pound loan with bad credit.
How Do Our Customers Use Our ₤1000 Loans?
We are an FCA-authorised direct lender operating in the UK for over ten years. To help you evaluate if our 1000-pound loan is the right choice, we put together the table below to show how other people in the UK use our loans.
| Purpose of Taking a ₤1000 Loan | Example of Usage | Percentage of Our ₤1000 Customers |
| --- | --- | --- |
| ₤1000 for Emergency Expenses | Unexpected urgent expenses like a broken boiler or emergency home repairs. | 22% |
| ₤1000 for Home Repairs | Essential repairs like fixing a leaking roof or plumbing issues. | 18% |
| ₤1000 for Car Repairs | Necessary car repairs to ensure the vehicle is safe and roadworthy. | 10% |
| ₤1000 for Debt Consolidation | Consolidating multiple debts into a single, more manageable loan. | 5% |
| ₤1000 for Medical Expenses | Covering unexpected medical bills or healthcare costs not covered by the NHS. | 13% |
| ₤1000 for Education Expenses | Paying for courses, training materials, or other education-related expenses. | 5% |
| ₤1000 for Utility Bills | Assistance with high utility bills during periods of increased energy costs. | 12% |
| ₤1000 for Rent or Mortgage Payments | Helping to cover rent or mortgage payments in times of financial strain. | 5% |
| ₤1000 for Purchasing Appliances | Replacing or repairing essential household appliances like a fridge or washing machine. | 7% |
| ₤1000 for Holiday or Travel | Funding for a modest holiday or travel, particularly for much-needed breaks. | 3% |
Comparing Different Loan Offers
When comparing different lenders, you should ensure the lender is FCA-authorised and use this guide to understand the loan offer thoroughly. Ultimately, whether the lenders are bank or private, it all comes down to the offer you can get. Some lenders call 1000-Pound loans "personal loans" and others "short-term-loans", but these names represent an unsecured loan product that should be evaluated based on your needs. Our financial experts suggest that you check the following when comparing loan offers:
Lender credibility (banks or private lenders)
No collateral and no guarantor is required
Specific loan terms and conditions
Conclusion and Key Takeaways
Unsecured ₤1000 loans are a top-rated financial product in the UK. Yet, borrowing money is a serious decision. Technology advances allow FCA-authorised lenders to provide ₤1000 loans for people with bad credit based on their disposable income and affordability. You must address two essential elements before taking out a loan: The first is the amount you need, and the second is finding the loan structure that will allow you to comfortably pay it back while still dealing with the increased cost of living in the UK.
Apply for a £1000 Loan Now
No Paperwork (Less Than 2 Min)
FCA Authorized Direct Lender