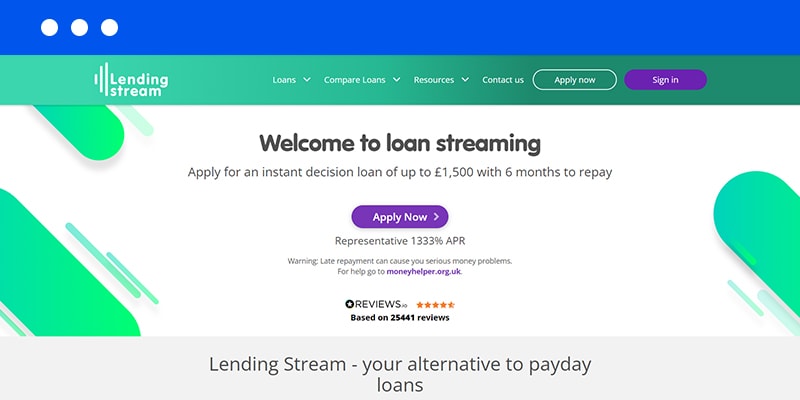 Lending Stream Loans Alternative
In need of urgent funds? Apply today at PaydayLoansOnline!
Suppose you can't cover your upcoming bills and you've exhausted every other possibility. In that case, chances are, you're online searching for a fast short term loan. At PaydayLoansOnline, we get that. Especially now, when times are more challenging than ever for UK residents. And that's why our service is tailored to you. To offer a Lending Stream loan alternative that can resolve your situation quickly, safely and with as little hassle as possible.
We provide a fair PaydayLoansOnline and Lending Stream comparison to help make your decision easy. If you have any questions at all, please don't hesitate to get in touch.
Who is Lending Stream?
Established in 2008, Lending Stream is the trading name of GAIN Credit, a US brand also responsible for Lending Stream's sister product, Drafty. As a direct lender, Lending Stream provides short term credit to UK citizens. Despite their status as a short term creditor, the company claim to offer a payday loan alternative by extending their loan durations to 12 months.
What Type of Loans are Available at Lending Stream?
Let's take a closer look at the details of their loan service:
Loans between £50 and £800. Existing customers can access up to £1,500
Two duration options: Six months and 12 months
Loans can be repaid early without charge
Online application and fast fund streaming
How to Access Lending Stream's Login
Once a loan has been approved and transferred, customers can log in to their account via a browser or the Lending Stream app to check their balance, view information and make manual payments. At PaydayLoansOnline, we provide a similar digital platform that ensures total convenience and easy use. Our dedicated Money on Demand app is on hand for customers looking to apply or maintain their loans while on the go.
A PaydayLoansOnline Loan vs Lending Stream
Our company shares many similarities with Lending Stream. For starters, we are authorised and regulated by the FCA, which gives borrowers total peace of mind at all times. Secondly, we both operate under a digital mindset, with online requests dealt with in the same manner as a Lending Stream application. Secure Open Banking and speedy transfers are also guaranteed. And finally, neither PaydayLoansOnline nor Lending Stream penalise customers for clearing their debt early, with, in fact, no hidden charges to be found anywhere. So, how exactly do we differ? Find out below:
Loan amounts: Our payday loans range from £300 to £1,000, even for new customers. So that gives you a little bit extra in comparison with Lending Stream's £800 maximum.
Loan periods: We try to encourage borrowers to clear their debt at their earliest convenience. That's why our loans run between three and six months, with early repayment available anytime.
No rollovers and no multiple loans: As part of our commitment to responsible lending, we enforce strict rules when it comes to your loan agreement. With our experience in the industry, we know how easy it is to fall into an endless spiral of debt and have witnessed the consequences first-hand. Setting you on the road to financial stability is our number one priority.
Direct Lender Loans: How Do They Work?
Lending Stream and PaydayLoansOnline are direct lenders, which means every part of the loan process is handled internally. This enables a faster response to applications and speedier money transfers. And also ensures all your information is kept in-house and you know exactly who you are dealing with at all times. The alternative to a direct lender is a broker. In contrast, brokers can be seen as the middlemen who work on your behalf to find a suitable third-party lender.
Loans Like Lending Stream
There are numerous loan providers available online, each offering their own specific products. Combing through the options can be exhausting, confusing and take more time than you can afford. As a Lending Stream alternative, we have put together a handful of reasons why PaydayLoansOnline could be your lifesaver.
Fast funding: Instant responses. If approved, transfers within the hour
Bad credit welcome: We take a variety of factors into account when assessing your application
Easy start feature: More flexibility and a stress-free beginning
Professional, efficient and friendly customer support: Available for you when you need it
Click here to find out how to apply for a direct lender loan with PaydayLoansOnline.
Lending Stream Contact Number
The customer support team can be contacted on the Lending Stream phone number of 0203 808 4440. As well as the Lending Stream number, existing customers can also use the live chat service to resolve any queries.
FAQs
1. Can I get a Lending Stream top up?
Yes, a new Lending Stream loan can be added onto existing, uncleared debt. We, on the other hand, are strictly against this policy, as short term loans from PaydayLoansOnline are intended for emergency use only, and like any form of fast credit, should never be used for long term money problems.
2. Are instalment loans like Lending Stream a good idea?
Instalment loans, in essence, are an expensive form of borrowing. That's why we advise all our customers to think carefully before making an application. However, they do serve their purpose. For example, if an unexpected expense crops up and you can't reasonably delay until payday. Making repayments on a monthly basis allows you to keep track of your budget and organise your finances in a straightforward and stress-free way.
3. What happens if I miss a payment?
In compliance with FCA's regulations, missed payments will incur a charge of no more than £15. However, if you know beforehand that you can't keep to your arrangement, please give us a call. We can help you avoid the £15 penalty and can talk you through your options to get you back on track.
4. How can I apply for a Lending Stream alternative?
You can apply for a PaydayLoansOnline loan this instant! If you are 18 or above and a UK resident, all you need is a UK bank account and a regular source of income. If you submit your request now, you may be able to resolve your financial headache today and finally enjoy a good night's sleep!