Understanding Small Loans in the UK
Small loans are a convenient way to access funds for short-term financial needs. They are unsecured loans, meaning you don't need to provide any collateral, such as your home or car, to secure the loan.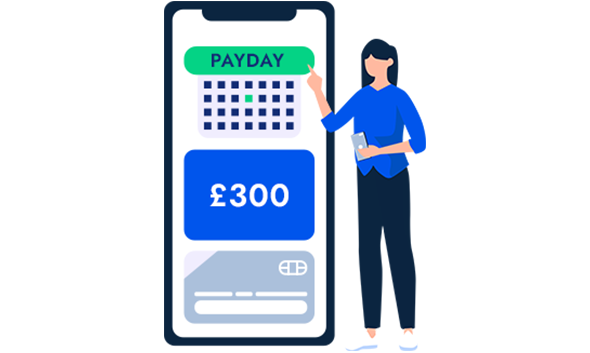 Representative example: Borrow £700 for 6 months. 1st monthly repayment of £168.45, 4 monthly repayments of £224.60, last monthly repayment of £112.20. Total repayment £1,179.05. Interest rate p.a. (fixed) 185.39%. Representative APR 611.74% Our APR includes all applicable fees. Daily interest is capped at 0.798%
Warning: Late repayment can cause you serious money problems. For help, please go to www.moneyhelper.org.uk
Direct Lender Guide to Getting a Small-Loan Online
As an FCA-authorised direct lender, we get many questions from our customers about small-loans. Our underwriting team put together a definitive list of must-know details about our small loans:
Understanding Small Loans
Small loans are personal loans that are typically used for short-term financial needs.
They can be used for various purposes, such as covering unexpected expenses, consolidating debt, or paying a medical bill.
The loan amount, interest rate, and repayment terms can vary depending on the lender's and borrower's creditworthiness.
Costs of Small Loans
Interest Rate: The interest rate is the cost of borrowing money, expressed as a percentage of the loan amount. It is important to compare interest rates from different lenders to find the best deal.
Fees: Some lenders may charge fees, such as origination fees, late payment fees, or early repayment fees. Be sure to understand any fees associated with the loan.
Total Cost of Borrowing: Consider the total cost of borrowing, including interest and fees, over the life of the loan.
Risks of Small Loans
Debt Accumulation: Borrowing more than you can afford to repay can lead to debt accumulation and financial strain.
Impact on Credit Score: Pay must be on time to make it easier to obtain credit in the future.
High Interest Rates: Some small loans may have high-interest rates, which can increase the cost of borrowing.
Regulatory Rights
FCA Regulation: Lenders in the UK are regulated by the Financial Conduct Authority (FCA), which sets standards for responsible lending and consumer protection.
Right to Information: Borrowers can receive clear and transparent information about the loan terms, including interest rates, fees, and repayment terms.
Right to Complain: If you have a complaint about a lender, you have the right to complain to the lender and, if unresolved, to the Financial Ombudsman Service.
Cooling-Off Period: Borrowers have a 14-day cooling-off period during which they can cancel the loan without penalty.
Before Applying
Assess Your Needs: Determine how much money you need and what you will use the loan for.
Check Your Credit Score: Your credit score can impact your eligibility for a loan and the interest rate you receive.
Compare Lenders: Compare loan offers from different lenders to find the best terms and rates.
Create a Repayment Plan: Ensure you plan to repay the loan on time and in full.
Reliable References
Ready to Apply for Our Direct-Lender Small Loans?
Thank you for your trust. We promise to treat you well. We want to be fully transparent and ensure that our award-winning (2022) small loans are the right solution for you.
Before you click apply and start the process, please ensure you comply with our eligibility criteria:
Eligibility Criteria
To be eligible for a small loan, you must meet specific criteria. Firstly, you must be at least 18 years old and a UK resident. Secondly, you need to have a regular source of income, either through employment or other means. Lenders will also consider your credit history and affordability when evaluating your application. A good credit rating can increase your chances of approval and may result in a lower interest rate. However, some lenders may still consider applicants with less-than-perfect credit scores. Please read our section for people with bad credit to learn more about the options we provide for people with issues on their credit file.
Next, make sure you are borrowing responsibly. Customers with responsible borrowing applications are most likely to be approved faster.
Borrowing Responsibly
It's essential to borrow responsibly and only take out a small loan if you can repay it on time. Late or missed payments can incur additional fees and negatively impact your credit score. Please get in touch with the lender for clarification if you have any questions or concerns about the loan. Remember, small loans are a short-term solution and should not be used to cover long-term financial needs.
And last, check the examples below. It's real loans we funded recently. We put all the details for you so you can see the exact cost of borrowing and all the possible fees:
Recently Funded Small Loans as Case Study Examples
Example #1: Evans from Bristol
Evans from Bristol got a small loan to repair his car After carefully reviewing all the information we provided, he applied and got the money on the same day. He used our loan calculator on the application form to understand the cost of borrowing before applying.

| Item | Details |
| --- | --- |
| Borrowing | £450 for 4 Months |
| Interest | £303.60 |
| APR | 1014.72% |
| Total Repayable | £753.60 |
| Four Equal Payments Of | £188.40 |
| TransUnion Credit Score | (601–660) |
| Item | Details |
| --- | --- |
| Borrowing | £850 for 6 Months |
| Interest | £704.10 |
| APR | 677.22% |
| Repayable | £1554.10 |
| Six Equal Payments Of | £259.00 |
| Equifax Score | (439-530) |
Example #2: Taylor from Sheffield
Taylor from Sheffield needed a small loan of £850 to pay unexpected bills. She applied online and got approved instantly for a loan with the details below:

Small Loans from £300 to £1500
The application process for small loans is typically straightforward and can be done online. You'll need to provide personal details, such as your name, address, and contact information. You must also provide information about your income, expenses, and employment. Once you've submitted your application, we will review it and conduct credit and affordability checks. If approved, you'll receive a loan agreement outlining the terms and conditions of the loan. It's essential to read this agreement carefully and understand the interest rate, repayment terms, and any fees associated with the loan. If you agree to the terms, the funds will be transferred to your bank account, usually within a few hours or on the same day.
No Paperwork (Less Than 2 Min)
FCA Authorized Direct Lender