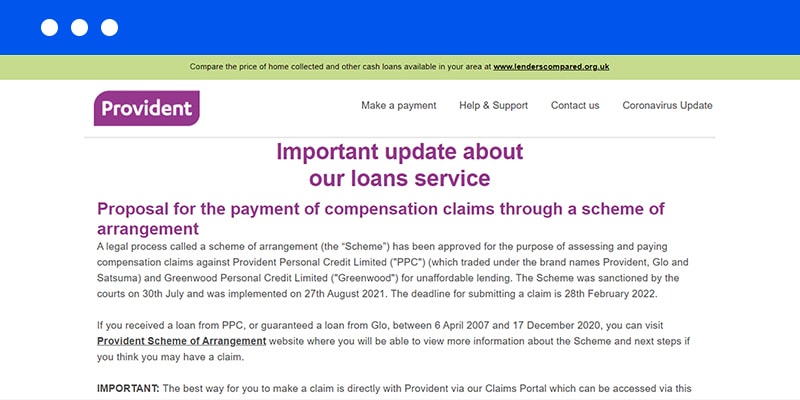 Provident Loans Alternative
Need a Provident loan alternative today? PaydayLoansOnline is here to help!
The past five years have witnessed a surge in loan demand from UK residents. Despite that, many companies have exited the market in financial ruin. More protection for consumers, led by the Financial Conduct Authority's new policies in 2015 and subsequent crackdowns, left some of the biggest names in the business reeling from customer complaints and hefty fines. At PaydayLoansOnline, we built our entire organisation around the FCA's regulations, putting our customers' safety at the heart of what we do from the very beginning.
If you need fast cash, you may be wondering how to navigate this minefield of uncertainty. Even experienced household providers, such as Provident, have been affected. So, are there any lenders left that can guarantee safer payday loans with as little hassle as possible? We believe we can. And will tell you why right here. But first, let's take a look at Provident and explore what went wrong for the lending veterans.
As a Doorstep Lender, Did Provident Pay Loans Online?
Dating back to 1880, Provident remained, until very recently, a traditional consumer credit company, delivering loans to customers' doorsteps. However, in 2021, Provident announced that they will no longer be offering any services, either in person or online. This decision was primarily enforced by a considerable payback scheme, intended to compensate borrowers who had been granted loans they couldn't afford.
What Happens Now with Provident Online Payments?
Anyone with an existing Provident debt must continue to stick to their agreed payment schedule. You can make a payment to your representative over the phone or at your doorstep. Alternatively, you can also do this online by heading to the Provident 'Make a Payment' page on the website.
What Does This Mean for the Future of the UK Provident Financial Group (PFG)?
The PFG has now ceased all operations for four of their brands: Provident, Satsuma, Greenwood and Glo. The only two divisions left unaffected are Vanquis Bank, which specialises in credit builder cards and Moneybarn, which provide finance for personal vehicles.
How Do PaydayLoansOnline Loans Differ to Provident Personal Credit?
For starters, we are still in business! And working hard every day to meet the needs of UK residents. Aside from that, PaydayLoansOnline operates solely online. We wouldn't dream of turning up at your doorstep to ask for money. Our company reflects modern customers. By providing the ultimate convenience for the digital world:
Easy online application: Entering your information takes a matter of minutes, which can be done 24 hours a day, seven days a week
Instant responses: We eliminate the stress of waiting by responding to loan requests instantly
Fast funding: If approved, you can expect your funds in your account within the hour
Online management: Log in at any time to review your loan or make repayments
Provident Loans Contact Number
The Provident customer service team can be reached online, in writing or through the Provident loan number: 0800 096 6064, which is open Monday to Friday, between 9 am and 5 pm. An alternative line is available for Provident complaints (0800 121 8034), which also offers advice for customers unsure how to make a claim through the scheme of arrangement.
PaydayLoansOnline's Commitment to the Customer
As an ethical lender, we pride ourselves on responsibility. Not only is our service as transparent as we can make it, but we also take specific steps to avoid spiralling debt and help protect our borrowers, such as the following.
No rollovers or multiple loans: We see it time and time again. Lenders encourage debt by offering top-ups, one loan after another and credit cards alongside personal loans. Our goal is to help you out in an emergency and then set you on your path to financial stability.
We will never agree to a loan you can't afford: We specialise in short term loans online for those with poor credit ratings. But our commitment to you means we would rather refuse a request than lead you into serious money problems.
We won't charge any fees, even for early repayment: You can save on interest by clearing your debt before your agreement ends.
We will listen: Our friendly customer service team are on hand to hear you out. Perhaps you're struggling with your repayment schedule, or something unexpected crops up. Give us a call. We will do everything we can to get you back on track.
FAQs
1. Can I still log in to my Provident online account?
Yes, despite Provident withdrawing from the loans market, existing customers are still obliged to pay off their debts. You can do this by contacting your rep as usual or by logging into your online account.
2. Are PaydayLoansOnline loans like Provident?
Provident loans' online capabilities took a backseat to their traditional method of doorstep credit. We differ in the sense that all our business takes place online. This makes us fast and convenient. We don't employ reps, and we certainly don't do doorstep visits! Plus, with PaydayLoansOnline, our payday loans are intended for emergency use only, with sums of £300 to £1,000 available over shorter periods of three to six months or seven with our Easy Start feature.
3. How do I know PaydayLoansOnline will accept my application?
If you have been rejected elsewhere, you may be a little worried about damaging your credit rating further by yet another refusal. We totally understand. That's why we set up a zero impact affordability calculator for anyone to use. And if it turns out you are likely to be accepted, you won't need to enter all your details again into the actual application; we will do it for you.
4. Is PaydayLoansOnline a direct lender?
Correct! Unlike brokering services, we deal with every aspect of your loan directly. This nurtures trust between ourselves and our customers, makes processes quicker and more straightforward, and eases communication in general. If you're looking for a direct lender alternative to Provident, we are confident we can meet your needs and deliver a satisfying and stress-free loan experience!